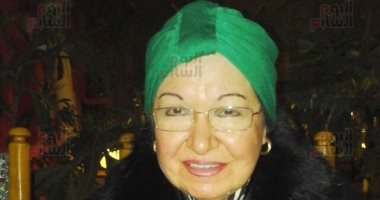 In her first appearance after 55 years, artist Mutezila Kariman said she did not like her role in "The Beautiful Mother-in-Law" despite her success and the film's success, and the great artist revealed in an exclusive interview the seventh day after her departure. out of the spotlight for more than 55 years for the reasons for her lack of sting. About her role in this famous film, saying: "I was still young and I was 17 years old and I started playing the main role and the role of a mother and I felt that it was not appropriate for me at this age to allow myself and work for myself or because "My age was inappropriate."
Commenting on her choice for the role, the great artist said: "I myself was a joy and entered the art as a hobby. The producer, Asia, made an ad in the newspapers to choose a new face. Many girls were featured in the ad and she chose me among them. to play in the movie Beautiful Mothers-in-Law "
The beautiful artist added: "Despite my success in the film 'Beautiful Mothers' and the success of the film is a great success, I do not like this role.'
The great artist Mutezila Kariman said she left art after her marriage and the birth of her only son Sherin, explaining that she had worked in art for 12 years between 1953 and 1965, saying: "I exploded a bit and worked in art for a while, and "Then I said peace to you and left you after I got married and gave birth to my only son Sherin."
The great artist confirmed that she does not feel any remorse after all these years, although she left art while she is still at the peak of her fame and youth, noting that she has a number of no less than 35 films and 40 plays, but only a few of her works have been shown. . .
The great artist explained that she was the heroine of the theater group Ismail Yasin for 3 years.
The seventh day was the only one to receive the latest paintings and exclusive statements from the artist, Mutezila Kariman, one of the stars of the beautiful weather during the 1950s to mid-1960s, who retired and was out of the spotlight more than 55 years after her retirement in 1965.
The beautiful star still retains her beauty, cheerful appearance and lightness of her shadow, despite all these long years despite her older age.
Actress Kariman won the championship in her first role after winning a competition conducted by artist and producer Asia to choose a heroine for her famous film "The Beautiful Mother-in-law", so that the beautiful star will be the heroine of the film with her first appearance on screen before Kamal El-Shenawi, Mary Munib and Mimi Shakib, and Kariman also starred in the films Al-Fan. Al-Sihari "With Ismail Yassin" became the heroine of his theater group for 3 years and participated in many plays.
One of the most famous roles of the actress Kariman, known to the public, is her role in the movie "Tamer Hanna", where she played the role of a rich girl trying to distinguish between Tamr Hanna and her lover. Sukar Hanim and "Aida" in the film Marati, general manager
Source link