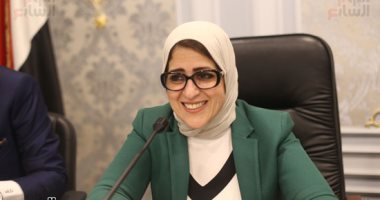 The Ministry of Health and Population has announced the start of a medical examination for high school students at the initiative of President Abdel Fattah Al Sisi to eliminate the "C" virus and detect non-infectious diseases under the slogan "100 million health", in early December, Presidential election.
Dr Hala Zayed, Minister of Health and Population, said the launch of a comprehensive secondary school study is based on the internationally approved Sofospeffer / Lydipasir for the treatment of patients with the hepatitis C virus, approved by the Food and Drug Administration. is for children between 12 and 18 years of age through the Pediatric Liver Commission, which was recently set up by the Central Health Insurance Office in the Republic, where 6 million students will be directed to the second stage.
The Minister of Health and Population has said that the initiators of the "Presidential Initiative" coordinate activities with officials of the Ministry of Education in order to quickly examine students, and when analyzing this point, "Rapid Detector" devices will be used to collect one blood point from each student. Antibodies against the virus C, the student's tendency to develop diabetes, as well as the measurement of "stress" and obesity.
She explained that the disclosure will take place in schools in turn and will not interfere with student work in any way, because it will not take more than 10 minutes to calm parents of their children without incurring any significant amounts.
The Minister of Health underlined the state's commitment to pay the costs of treatment free of charge to those who were infected with any of the four diseases covered by the initiative, declaring that parents would not be financially burdened for treating their children.
Hala Zayed pointed out that the "campaign" will not be limited only to public high school students, as part of the president's directives, to care for the health of the younger generation of Egyptians as "builders of the future", but will expand to various secondary stages, In coordination with Sheikh Al-Azhar Al-Sharif.
The Minister of Health and Population has asked citizens to encourage their children to ensure their health, stressing that the detection of diseases at an early stage can improve the health of a child or adolescent to avoid the plague of disease in old age.
Source link