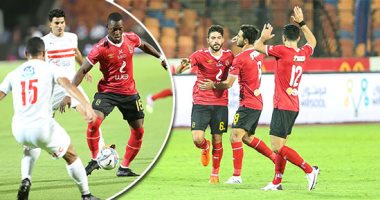 Far from the public fame and immense joy that Al-Ahly and Zamalek fans are looking for next Friday night, when the two teams are fighting for the title for the first time in the African Champions League, other golden gains await the crowned champion of the African throne. continent.
The winner of the African Champions League is waiting for gold wins, led by the participation in the FIFA Club World Cup 2021, and on December 10 he will play the super match of Africa in Cairo against the champion of the Moroccan confederation, Berkane, and the winner will win 2.5 million dollars, equivalent to 40 million Egyptian pounds
Since the launch of the first edition of the African Champions League in 1964, the two teams have never been part of a country final, but Al-Ahly and Zamalek have finally been able to achieve this historic achievement to confirm their leadership in African football.
Zamalek advanced to the final match after beating Morocco Raja 4-1 at home and away, while Al-Ahly qualified after beating Widad with five against the goal in the total part of both matches.
Al-Ahly faced Zamalek during the previous 4 seasons of the African Champions League in 2005, 2008, 2012 and 2013, all of which ended with the red giant being crowned champion of the continent's oldest competition.
Al-Ahly did not know the taste of defeat against Zamalek in the African Championship, where he won five matches against a draw in three matches.
Zamalek scored his only victory over Al-Ahly at the African Championships in Johannesburg, South Africa, when he defeated the Red Giants (1-0) with a glorious goal by Ayman Mansour to crown the White Knight for the 1994 African Super Cup. year.
Source link