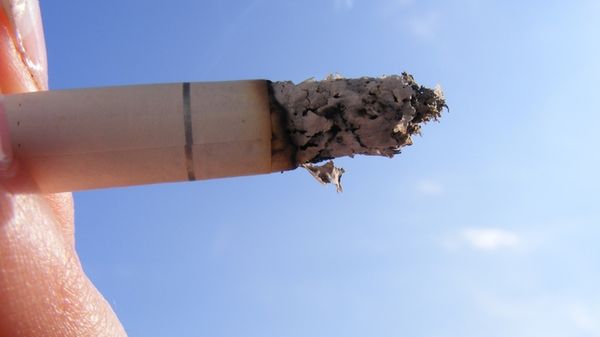 Several doctors in the "Stop Smoking – Make the Bed of the Infected!" Call on people to quit smoking and help not only themselves but also coronavirus patients and hospital staff. A similar challenge arose during the Covid-19 spring wave, but the current situation in Czech hospitals is now more dramatic and fears of a system collapse.
If cigarette consumption drops by a dozen, hundreds of acute beds can be left empty
"Even heavy smokers can help reduce their daily dose by half or just a few cigarettes in the coming months. This will also have a statistically significant effect on the number of hospitalizations," said Radek Svoboda, the caller, infectologist and internist. . According to him, if cigarette consumption drops by a tenth, hundreds of acute beds will be vacated, leaving first-line paramedics more time for caviar patients.
Svoboda was signed by the President of the Czech Society for Atherosclerosis Michal Vrablik, the head of the Society for the Treatment of Tobacco Addiction Eva Kralikova and Roman Gabrhelik from the Department of Addiction of the 1st Medical Faculty of Charles University and the University of Prague.
Active and passive smoking in the Czech Republic is the cause of almost half of the approximately 18,000 heart attacks per year. Smoking can also cause stroke, chronic obstructive pulmonary disease or lung cancer. In the Czech Republic, smoking-related hospitalizations fell sharply in 2017, following the introduction of a smoking ban in restaurants and bars, by about 2,000 a month.
According to doctors, if a person stops smoking, the results are visible immediately – the risk of heart attack, stroke, asthma attacks, exacerbation of chronic obstructive pulmonary disease and many others decreases. By limiting the number of cigarettes smoked, smokers will also reduce their risk of severe coronavirus infection. Increases the body's defenses and prolongs life by an average of seven years.
The initiators of the call also mention contacts where people addicted to cigarettes can ask for help. Tips on how to quit smoking are given, for example, by the Association for the Treatment of Tobacco Addiction slzt.cz or bezcigaret.cz.
"Smokers can also download the Adiquit mobile app to help with quitting," Svoboda added.
Poll
Are you a smoker?
A total of 3248 readers voted.
Source link