<! –->
Nowadays, cameras are the area where the most sophisticated model is attracted by smart phone manufacturers. And it looks like it will be a while. This year we saw the first phones with 48MPix cameras and several manufacturers announced that they are preparing models with 64MPix sensors (more in the article Whose Mobile Will Be the First to Shoot at 64 Megapixels? There Are Some Candidates). But now Samsung has really raised the bar by announcing that it has a new 108MPix sensor for smartphones.
Whose mobile will be the first to shoot at 64 megapixels? There are several candidates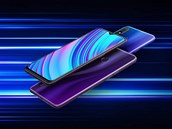 Interestingly, the development was also incorporated in the Chinese Xiaomi, which paradoxically uses this sensor as the first in the still uncertain Xiaomi Redmi model. However, it is common for Samsung to sell its chips and sensors to other manufacturers, so it is possible that we will see some of these champions in photo resolution before the Samsung 108MPix comes to market.
This high-resolution sensor is called ISOCELL Bright HMX, and just like today's 48MPix cameras can connect neighboring pixels for better brightness at 12MPix resolution, this new sensor connects neighboring cells with an impressive 27 MPix. It is one of the largest manufactured 1 / 1.33-inch mobile phone sensor. The resolution of the photo will be 12,032 x 9,024 pixels. This is a difference that is outside the normal range for professional photographers.
The ISOCELL Bright HMX also lets you shoot high definition video at up to 6K (6,016 x 3,384 pixels) at 30 frames per second. We have no idea what kind of device you would enjoy in this full-length video, as the display devices (TVs, monitors, smartphones) with a finer 4K display are still only a small number and moreover they are a high premium. Most likely to be used in the future when 8K panels once become mainstream.
However, we will see if such high resolution will serve some smart use with sophisticated software. Double, triple and even quadruple cameras also seemed to be useless at first.
48 megapixel cameras already have new smartphones OnePlus 7 Pro, Redmi Note 7 or Honor View 20. But in the DxO Mark ranking, it is still doing well for nearly a year old Google's Pixel 3 with a 12 megapixel camera.
The same camera has this year's cheaper light pixel 3a, which costs around 13,000 kronor on our market (where it is not officially sold). This can be expected from Xiaomi news for a totally different amount needed to buy.
<! –->
Source link