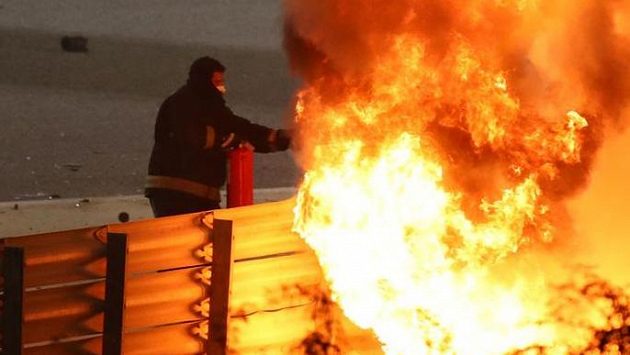 Six days after the horrific crash, in which he said he was born a second time, Formula One driver Romain Grosjean was back in the cockpit. With bandages on his burnt hands, he returned to the Haas team car, with which Brazilian deputy Pietro Fitipaldi will win today's Sachir Grand Prix, and it is already clear that he will not finish the last Grand Prix in Abu Dhabi, which was supposed to be the last. in Formula 1. Burnt hands he eventually leaves Bahrain to recover at home.
"It's very sad that I will not be able to finish my last race in Abu Dhabi, but that would be too much of a risk to my recovery, health and safety. I did not expect to finish my Formula One career. It was one of the most difficult decisions of my life. "but at the same time the most sensible," said the stable Haas pilot.
One week ago, at the Bahrain Grand Prix, he miraculously escaped half a minute from the burning formula that ignited after hitting a barrier. He spent three days in hospital. He has been on the racetrack in Sachir every day since his release and sat in the cockpit again on Saturday during the team visit. He announced today that he will not be able to say goodbye in Abu Dhabi. In the final of the season he will be replaced by the Brazilian Pietro Fitipaldi.
"I do not have the usual racing gloves, but sitting here again is a really great feeling. I am happy," Grozan wrote about the photo on his Instagram. In the F1 World Series, he rode the Haas barn all four years after its founding and finished 96 races in his own colors. A total of 179 Grand Prix passed.
Is Grozan testing you?
He would like to say goodbye to F1 in January, at least in the form of tests. "I will call any team and see if anyone offers me a private test earlier this year," he said. The Mercedes master has already announced that he will be ready to fulfill his wishes. "If we are allowed to do that and none of the barns he competed for give him such an opportunity, we will do it," said Director Wolf. Before joining Haas, Grozan raced for Lotus, now Renault.