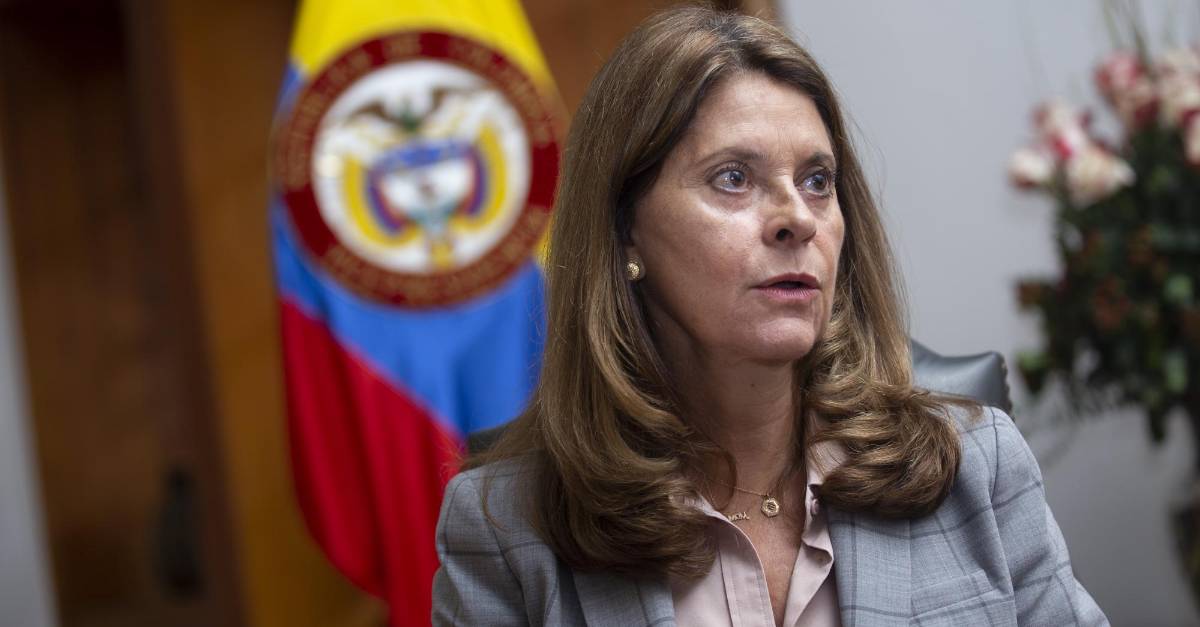 Marta Lucía Ramírez not for a moment, her schedule does not allow it. From August 7, when she was sworn in as the Vice-President of the Republic, she is fully focused on performing tasks that are part of the second most important position of the executive.
The list includes a leading strategy to fight corruption, closely monitor the development of major road works and closely follow the solution of management problems in some regions, as is the case with Cartagena.
The appointment for a hundred-day mandate agreed with the appropriate space to attend the hearing, but at the last minute the mission of President Ivan Duque took her to Guatemala for the Ibero-American summit of leaders to replace him. Before leaving, Ramírez spoke about issues that concern the government of which he is a part.
Standing before him, as always, ensures that the country remains polarized, as it was in the campaign and blames populism, which, he says, wants to break the institutional framework. The tax reform guarantees that it can change a lot and that nothing is irreversible. It also explains what the strategy for combating corruption scandals in public administration is.
How would you rate the fight against corruption, one of its main functions?
The issue of corruption is a priority for this government. It is true that we must first and foremost strengthen the institutional framework. I found the Secretariat of Transparency and the fight against corruption, which is extremely weak and we are rightly strengthening it. As part of the decree of restructuring the presidency of the Republic, we presented the additional functions of this secretariat, functions that rely primarily on our ability to commission contracts or any type of tendering for which we see irregularities.
Also the right to ask the prosecutor to suspend public officials in a preventive manner when we find serious evidence of corruption, but we are convinced that the way to suppress corruption is greater transparency. Therefore, we ask each ministry for transparent programs so that ministers, secretaries general and deputy ministers would have the will to open their plans to know what day things are going on, what meetings are taking place and with whom they talk about problems in their portfolios.
Will we continue to observe the vice-president of Colombia who raises allegations of corruption in the state?
Today, we collect information that in some cases has reached us. We must also make it clear: today I am absolutely convinced – and this is the recommendation I have given to the people from the Transparency Secretariat, Dr. Andrés Rugeles – that we can not provide any information because you know that there is information that suggests an additional study on the one hand, deepening . I will personally report and mobilize the Colombian state. This fight against corruption is a fight without a quarter.
No matter what is the fight?
Here, before anyone can stop, this country really has to show that justice is to remain here, that transparency is to remain here. No power, of any nature, will stop us from the duty we have with the Colombians.
How is the question of further actions regarding road infrastructure going?
In fact, we have stated that the situation is on the one hand worried by public officials. We have seen that the National Agency of Infrastructure has stopped working in the last months of the previous government simply because of fear to wash their hands and not risk in the future. We have dedicated ourselves to the leadership of the Minister of Transport, Ángela Orozco and her team, to review 4G contracts one by one and have already managed to make financial and technical closures that have enabled some of these works to start.
We know that there were many non-transparent things and for this reason we are taking the initiative to create an access platform for citizens, where every day you can check what is happening with these works. Here, too, we intend to put Invías, the problem is that Invías left him without a peso and he is in places where there is a greater demand from society, especially on tertiary roads.
Is the tax reform project that has caused so much criticism for the government completely irreversible?
The act is irrevocable only if there is already a law approved by the Management Board. President Ivan Duque himself has already opened the space to analyze what he considers more prudent for economic development, especially for the orange economy and new young entrepreneurs in our country. Personally, I think that this is an opportunity to assess the possibility of leaving the tariff for some products of the basic family basket at zero, but we must praise legal efforts to improve investment conditions and business development in order to generate a high-quality workplace and a greater increase in the middle class in our country, which is something that blames President Duque.
Another key issue in their work is transparency in cities or departments where there are management problems. How does Cartagena deal with Mayor Pedrito Pereira?
The Cartagena case is much more transcendent than the 14 months left to the mayor. We know that the most urgent thing is to give Cartagena to the north. The city had a lack of total power by the 11 mayors who passed over the past seven years.
What we have done is strategic planning for Cartagena, where there are three stages: one is accompaniment to the mayor of Pereira, the other accompaniment to Cartagena during the four years of Iván Duque's rule, and the second one is Cartagena in 2033, when 500 years have passed since the city's creation years.
What happened in concrete?
We have a plan that guarantees transparency in managing the city's resources, thus reducing all bureaucracy and contracts for the provision of services that have been created in previous administrations, in fact to pay political fees. The mayor of Pedrito Pereira took it at the waist, there is no contract for the provision of services that has been concluded since taking office, and then I am following a follow-up in connection with the Transparency Secretariat. The contracts that expire in December are dealt with one by one to determine which of them will continue, so step by step, the situation in the city will improve.
Cartagena is a tourist district that receives huge resources every year, over which it has very little control, including licensing fees. In addition, we have a strategy from the vice president to make the management of license fees more transparent in all municipalities of the country. Another anomaly is that in the historic center of Cartagena there are many millions of dollars worth of property that do not pay property tax, and we have found that the city has not received the valuation tax.
Did you feel that the country is still very polarized?
Unfortunately yes. There are several initiators who are devoted to polarization to permanently disqualify the work of President Iván Duque. It's absurd, it's a "stick, because you're cheering and sticking because you do not." Despite the tremendous effort we have made with President Duque to have a technical office – of course with a certain degree of closeness to political ideology – they go out every day to attack and criticize him because he is not close to the political class, because it means he will not have power executive. .
Of course it is difficult, we knew it would be difficult, and the president's efforts every day are to understand Congress that we have to change the way we do politics, that there is a very high expectation of citizenship of that government and that they must help us make this transformation.
This polarization is primarily directed by some who are always instigators. We will not let populism check the institution.
Including social protests that are currently taking place?
Yes, everything is arranged. Another thing is the spontaneous initiative of citizens, who say that we do not like it, or something else, but another thing is to mobilize this citizenship, which, as we know, has infiltrated people. We've seen this in movies for students. It is justified that students protest, I am a person who will defend this right until the day I die, but when it is already with hooded people, Molotov cocktails and students who are ororated, because all this is worth the silver, it is not they are students of Colombia. Those who do all this kind of activity are the same anarchists who always want to check the institutional framework.
Did you feel good working with President Iván Duque & # 39; em?
When someone does this political work, as it is in my case, wanting to serve the country, wanting to fight off all the risks of populism in Colombia, here you have to be convinced every day that everything is going well. It is the process of getting to know each other, the process of perceiving how this complementarity is more and more effective. I, President Duque, did not know that he works, here I get to know him acting. First of all, I see in President Duque a call to service, a will to succeed, all this process will allow us to improve more and more the team that we create.
But do you listen to this?
Of course he can hear me. The president and I have daily communication through the chat and when we see each other, if I say two or three sentences, I know that it takes them into account. I would like to have more time to share with him, but his and my journal are very busy, and besides, we can not be together all day because it would not be effective.