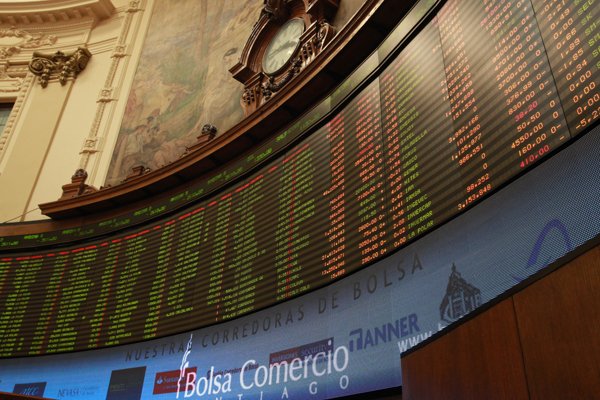 The last day of the month fell by 0.86%, but the benchmark S & P / CLX IPSA closed the month with an accumulated increase of 0.15%.
Despite the fact that on Friday the Santiago Stock Exchange ended the day in red, the S & P / CLX IPSA benchmark index closed November with a small accumulated profit, in line with the rise of Latam and the sectors considered to be more defensive.
At the end of the day, the selective was located at 5,111.88 points, which represents a decline of 0.86%.
During the day, IPSA was under pressure from heavy casualties in some of its top categories. What's more, Of the ten stocks that weigh more in the index, five suffered losses of more than 1% today at the Stock Exchange, like Copec and CMPC that made it over 2%.
With this, Chile separated from the Latin American markets, where the majority recorded losses, but with smaller size. According to market realtors, given that the securities are most relevant within the indicator, there may be an upgrading of portfolios of funds, which affected the price of securities.
With that, IPSA closed November with a gain of 0.15%.
Winners of the month
Over the last 30 days, the most advanced action within the payroll selective was Latam Airlines, which appreciates 8.89% driven by the Brazilian boom.
Bovespa was one of the indexes that advanced most in the region this month, with a profit of 2.38%, making the airline one of the largest sources of Chilean titles in the country.
Sectors considered "defensive", which are used as shelter activities in times of instability, also separated during that period.
And that's the fact that out of the ten IPSA documents of the best performance five are electric or sanitary, they are traditionally considered as "safe" documents for investors. Enggi, Enel Chile, Kolbun, Aguas Andinas and Enel Americas, who also benefit from the Brazilian boom – leased more than 6% a month.
The losers
Among the worst performing performances of the month are companies in which the market sees "problems," operators say. In short, for example, I saw its two heavyweights found among the worst lows of the selective.
Cencosud was the IPSA paper that fell most in November, with a decrease of 13.95%, a consequence of the negative impact of the Argentine operation on its results and the generalized weakness of retail sales. This latest variable, with consumption figures that have not been abolished, has made Falabela lose 4,93% of the month.
Capacity dropped by more than 8% over the same period, driven by a drop in iron prices, while Copec and CMPC fell by 7.03% and 2.52%, respectively, with investors worrying that the pulp could follow the steps of the other goods and to enter the roller concern about the commercial war.
Source link