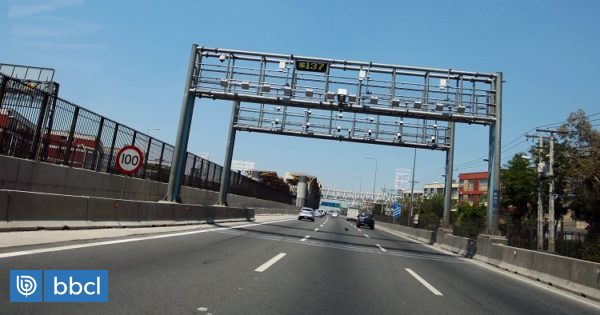 In the next few days, concessionaires will publish year adjustment which will be made in toll rates on urban roads in the capital.
According to preliminary information, the next year there will be an increase in 6.4% in the porticoes located in America Vespuccio Sur, Costanera Norte, Autopista Central, America Vespuccio Norte and Tunnel San Cristobal. This increase corresponds to the annual increase of 3.5% and the Consumer Price Index accumulated from December 2017 to November 2018, according to El Mercurio.
It appears in the years
This possible increase of 6.4% would be similar to what happened in 2017, which is 6.5%, but it would be far from the one of 2018, which reached 5.4%. However, between 2006 and 2019 – if this is applied 6.4% – concessional roads will increase nominally by 97%.
According to the Directorate General for Concessions of the Ministry of Public Works, these adjustments apply to contracts for the first urban concessions for highways that were made 20 years ago. Low tariffs were applied in them they are rising.
Leonardo Danieri, chairman of the Association of Dealers (Kopsa), explained that "it's an increase to reach the tariff It should have been from the very beginning ".
Meanwhile, Hernan Calderon, chairman of the National Consumer and Consumer Corporation, accused "the body is not ready to revise the contracts, but it is necessary analyzes the original conditions and update them to the current, where companies have high profits. "
Eventual prices on highways
With this increase of 6.4% on urban roads that diverge in the capital, for example – on the way to 7:30 and back at 6:30 am – the San Cristobal tunnel will go from 1,031 to 1,098 dollars.
Meanwhile, the Central Highway will range from $ 3,000 to $ 3,195 from America Vespuccio and Rio Magocho, and will move north to 7:30 am, which will increase from $ 6,512 to $ 6,935.
On the other hand, Costanera Norte of La Dehesa-Vivaceta will increase from 7,372 to 7,851 dollars. To the west, it will rise to $ 5,219. Vespucio Sur will reach $ 4,226 from Gran Avenida-Grecia, and to the east will be $ 3,745.