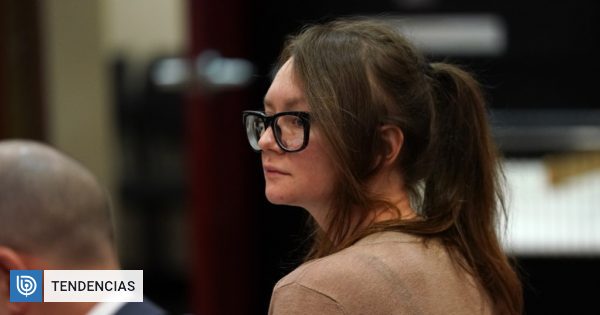 The jury in New York on Thursday declared the false German-Russian heiress guilty of all charges Anna Sorokin, charged with several frauds, and who now faces 15 years in prison. His fascinating story will be told in a series of Netflix and HBO.
Sorokin, 28, was charged with eight offenses of fraud for embezzling celebrities, bankers, artists and friends for almost a year between 2016 and 2017, robbing them in the process of $ 275,000.
"As was proven at the trial, Anna Sorokin committed crimes during her long scam," said prosecutor Manhattan, Kirs Vance.
With smart lies and unheard of self-confidence, the young woman, who claimed to be called Anne Delev, received several banks to lend tens of thousands of dollars, traveled for free on private jets and for months lived in luxurious hotels in Manhattan whose bills she never paid, according to the New York City Prosecutor's Office.
The daughter of a Russian exoské who moved to Germany when she was 16, He also tried to get a $ 22 million loan to fund a private club in Manhattan, featuring an art collection, bar and disco.
With a long light brown hair and an angelic face, Sorokin, who often raised cream and cream from New York and dressed in Balensaga and Alia's clothing, was imprisoned for a year and a half in the infamous jail on Rickers Island.
His lawyer, Todd Spodek, said in his closing arguments Tuesday that "in a city that advocates money and money," the girl, as well as the singer Frank Sinatra initially, resorted to unusual tricks to gain access to opportunities
Sorokin was just "time to buy," said Spodek before the New York City Supreme Court jury. Her behavior was "unusual, unethical (…), but that's the life she chose," he added.
He even invited his former best friend, photo editor of Vanity Fair magazine, Rachel Williams, to a villa in Marrakesh for $ 7,000 a night. She offered to pay for everything but then forced her to pay the bill: $ 62,000, more than the annual salary of the photographer, which she never returned.
Prosecutor Catherine Mecau, for his part, asked the jury to declare Sorokin guilty because he considered "lying in a lie" to commit crimes: falsifying accounts reports and bank transfers, personal documents, and even invented two alleged accountants .
"Evidence is huge"said the prosecutor in her latest arguments.
Sorokin will convict Judge Diane Kissel on May 9.