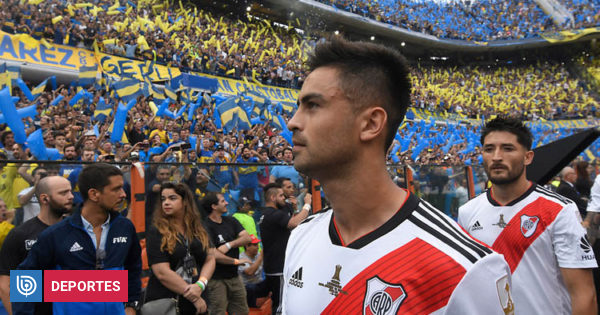 Did you find a mistake?
tell us
Jam Media | UN Archive
This Thursday the Conquest Discrimination Unit announced what everyone was waiting for: the failure of Boca Juniors' appeal against River Plate for the attack that occurred in Copa Libertadores.
After rejecting the presentation of "Boosters", the governing body of South American football surprised everyone by confirming the restructuring of the second final match of Copa Libertadores, especially after the selected place: Madrid, Spain.
In this sense, and although for many it seems to be a reward to play at the Bernabeu Stadium, this final shame in the Trans-Andean press could not hide the pain for the decision.
Well, at least that was left in evidence by journalist Martin Voggd Clarin newspaper, in a column of opinion titled "River-Boka: nobody wanted to lose and eventually lose everyone".
The columnist points out that "it was a huge mistake when we assumed it would be the final one everyone wants to play and no one wants to lose."
"After the stories of Osvaldo Soriano's stories – the flood before departure – but also by Horocio Chiroga – the attack on Boca micro, the incessant operations on each side and the inadequate work of Connembol – he spent a month and we still do not know who will be the champion" , he added.
"So, above all, the huge fear of losing has led to the loss of everyone," he added, adding that The Presidents of Conquest, Boca Juniors and River Plata were the main victims.
On Dominguez, Voogd explains that "he wiped his hands by imagining the prestige that this River-Boca will give him and will end and shows that all the evil is possible in football in South America."
"Daniel Angelics lostwho pressed, signed a paper that advocated playing in the afternoon of terror in the Monumental, but a few hours later also pressed it, said it would go against the river and will not stop complaining until the release of TAC. Now, having tightened the rope and lost part of its political capital, his mouth already made without reservation reserves to play in Madrid ", he was convicted.
As far as D'Onofrio, feeding on the river, the journalist mentioned that "when everything needs to be assured, demonstrated its most challenging side of an inadequate conference Press in Mar del Plata, where he did nothing, but throw oil in the fire. He asked for forgiveness. But it was too late ".
Finally, Martin Voggd summed up everything that happened in the feelings of most Trans-Andean people: "We all lost. In fact, we all lost"