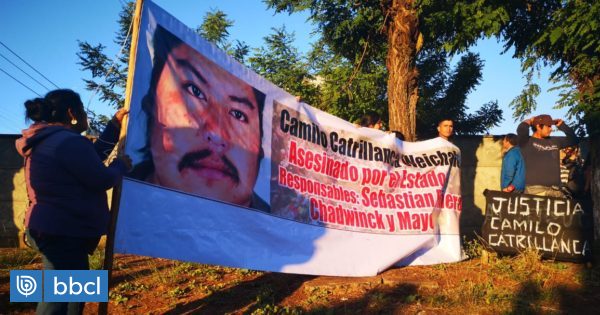 Judge of Collipulli Guarantee, Sandra Nahuulcara, as a precautionary measure on preventive detention for the four former representatives of Carabineros charged with the murder of comunero Camilo Catrillanca.
Patricio Sepulveda, Carlos Alarcón and Raul Avila will comply with the measure of the Second Police Station in Temuco, while Brouwio Valensuela will do so at the Fifth Special Forces Special Force in Los Alamos.
The judge explained that the measure will be carried out at the police stations, as defendants can still appeal against their withdrawal from the institution.
According to the information presented by the prosecution during the Friday's hearing, it will be Carlos Alarcón, who fired the projectile which struck the head of the comunero, causing his death on November 14.
In the same case, some of the prosecutors Roberto Garrido videos that discredit the version of former employees, which suggests that they fired to refuse an attack, however, that the confrontation would have occurred about an hour after Catrilanka was fatally wounded.
The prosecutor's office noted that the facts of the case consisted of the simple killings of Camilo Katrilanka's death, Raul Avila and Carlos Alarcón, and attempted to kill the 15-year-old adolescent who accompanied him, whose statement was crucial to the investigations.
In addition, in relation to 4 defendants, the crime of obstruction for research, about the false declarations they would deliver in the first instance, the arrest of officials after the crime, and the destruction of the video card, where the fact would be recorded.
Regarding the crime of infidelity in custody of documents, the judge rejected in principle considers that he will order pre-trial detention, because as explained, the classification of this does not consider the destruction of the memory card.
The judge determined a period of 60 days for the investigation.
At the exit of the court, minor incidents were registered, with some stones at the gendarmerie cars that would be handed over to the defendants, but quickly Marcello Katrilanka, Camilo's father, begged those who were trying to stop them.
Exinuformo they went to two gendarmerie vehicles to the nearby places where they will comply with the measure without any problems, around 21:10, when there were no demonstrators in place.