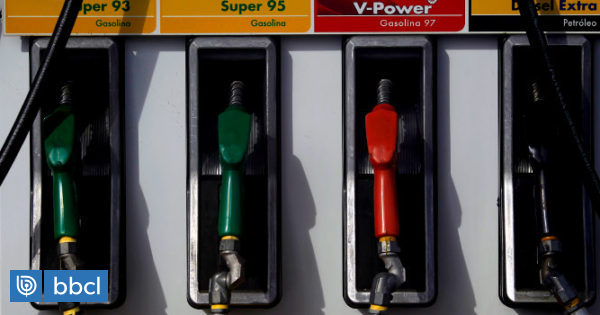 Economists have agreed that the price of fuel may continue to decline in Chile, at least until March, as a result of low oil price on the international markets, which will also affect the low inflation for the first months of this year.
At the beginning of October, Brent and WTI saw the peak of their value on international markets and since then their price has been steadily decreasing.
Only during October and November the price of crude oil fell by more than 25%, due to rising supply across the globe.
This reduction also reflects in the values ​​in which gasoline is sold in our country in different octane numbers, because in the last 10 weeks the average price 54 pesos fell per liter.
In November, this was even reflected in the null variation of the consumer price index, and it is expected that in December it will have a negative impact on the CPI.
The economist of the 21st Foundation, Eugenio Rivera, pointed out that if there are no big differences in the international scenario, this reduction can be sustained at least during the first quarter of 2019.
https://media.biobiochile.cl/wp-content/uploads/2018/12/bajabencinas1.mp3
Economist at the University of Chile, Alejandro Alarcón, meanwhile, predicts that the price of crude oil on the national market may experience some small rises, is imposed with a higher price of the dollar.
https://media.biobiochile.cl/wp-content/uploads/2018/12/bajabencinas2.mp3

According to the Central Bank's projections, the international oil price in 2019 should be quoted higher values ​​than the current one, so this low price will not remain permanently above the first quarter.

Starting from January, the price register will be collected on the basis of the new IPK basket that will modify some corrections, it will also incorporate new products and it is expected that the low price of crude oil will affect low inflation.