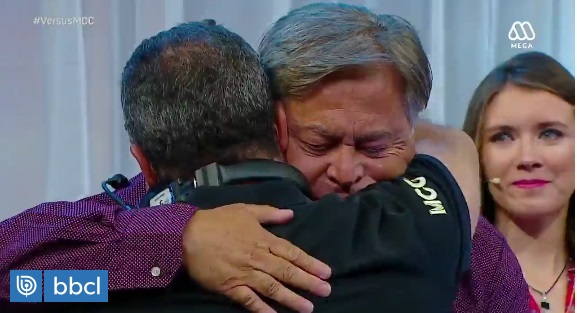 A few days ago it was reported that Ernesto Beloni is leaving Morande with the company, because the space will undergo a series of changes due to the current crisis through which Chilean television passes, so the humor on Saturday will stop broadcasting to concentrate on the version "3.0" only on Friday.
In a conversation with TVN, Beloni said that this decision meant "to cut staff, including myself, because I'm going Saturday. Because of the way I work and the costs, I also do not have a place for Friday", was the first thing the actor point out.
On the occasion, the comedian said that the emotional impact was stronger than the economic, since much of his career was made in Mega and Morandé, so he is very sorry to leave the space.
After weeks of this news, this Saturday came at the moment of goodbye, which was done on the screen, amid a lot of emotions.
"Today is a sad day despite the fact that we are very fun laughing, it's a sad day, complicated for the family of Kike 21", started with the animator pointing.
"Ernesto is hard to understand what's happening … that the television time we've made, this time, remains next door, I do not think so", he assured, referring to the modifications that caused the departure of Beloni.
"For us as a team together we thank you for the great pleasure, but believe me, the pain and the pain that you know that this is the last program we are doing with you is greater"Added Morande.
For his part, Beloni was very excited and said: "Let's hope this is not the last, that later we have more opportunities. Let's not take it as goodbye, let's realize that new doors will open".
After this, they gave him a unique photo in which he looked a positive and simple seat that was the one he had used for 15 years to work with his producer, who came quite a bit, because he closed the moment with a big hug with the man.
But not only did he look excited, but also one of his partners, Paola Troncoso could not control his tears with goodbye.
Kicky ended with expressing his wishes that he would soon work again together.
"Can not track… I believe that people in the house are against the custom that you have been in the house for at least 15 years, at least once a week, "he said, adding," much more than we think we will be in this same channel, because it can come to different times … but neither have people changed so much that they accept, first of all, not to see more character that lasts more than 15 years "
"I tell you that I hope it's a short farewell and we'll see a lot sooner", he ended up.