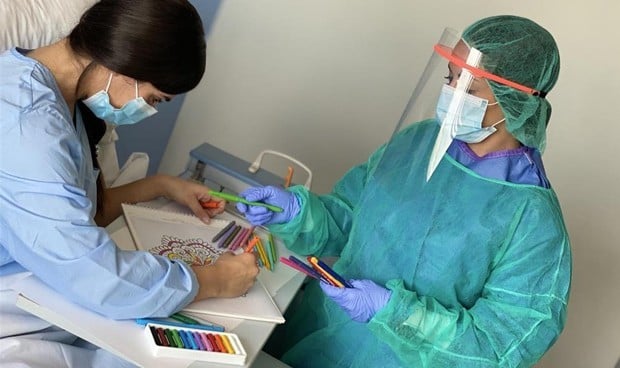 The epidemiology of SARS-CoV-2 infection it is difficult to study in young, healthy populations. For this reason, the findings obtained after the investigation into the explosion of a US aircraft carrier give news about more common symptoms in the youngest infected, including nasal congestion. The study was published in The New England Journal of Medicine.
DIRECTLY Follow the last hour of the health crisis
On Covid-19 appearance on Theodore Roosevelt "It provided an unusual opportunity to assess the epidemic in a predominantly young, healthy and able-bodied population," the researchers note. And is it 69 percent of the crew members were under 30 years old (Average age 27) and no one was older than 65. In addition, everyone was up to date with the vaccination schedule.
The crew of 4,779 people underwent assessment, testing and monitoring after an outbreak of the aircraft carrier was detected. "We received clinical and demographic data from all crew members, including PCR test results with real-time reverse transcription. "All crew members were followed for a minimum of 10 weeks, regardless of test results or the absence of symptoms," the study authors explained.
During the epidemic, 1,271 crew members (26.6 percent of the crew) tested positive. In addition, 60 other crew members were suspected of developing the disease, although they were not PCR positive.
76%, asymptomatic on positive testing
Among crew members with a laboratory-confirmed infection, 76.9 percent (978 out of 1,271) had no symptoms at the time they tested positive and 55 per cent had symptoms at any time during the clinical course.
Among crew members who had symptomatic Covid-19 (confirmed or suspected), headache was the most common symptom reported at any time during illness (68 per cent).
followed by cough (59.5 per cent), nasal or sinus congestion (43.8 per cent), and a change in taste or smell (42.3 per cent).
Among the 1,331 crew members with suspicious or confirmed Covid-19, 23 (1.7 percent) were hospitalized, 4 (0.3 percent) were in intensive care, and 1 died.. Crew members working indoors seemed more likely to become infected.
"SARS-CoV-2 is spreading rapidly among the crew of the USS Theodore Roosevelt. Transmission was facilitated by proximity conditions and by pre-symptomatic infected crew members. Almost half of those who were positive because the virus never had symptoms", Emphasize the authors.
Although it may contain statements, data or notes from healthcare institutions or professionals, the information contained in Redaction Medica is edited and prepared by journalists. We recommend that the reader consult any health-related question with a healthcare professional.