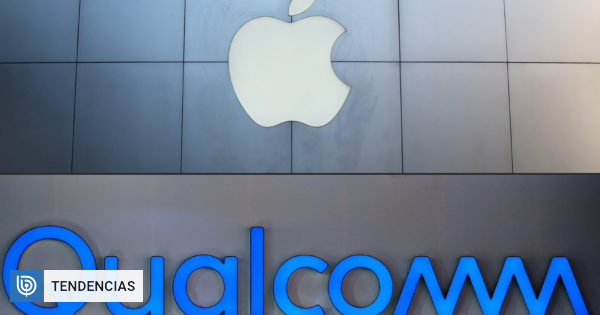 After more than two years of judicial battles, Apple and Qualcomm they signed a truce for the payment of copyright for patents.
The two companies reached a trade deal, which they announced shortly before the initial arguments in the new trial at the federal San Diego court began.
"Qualcomm and Apple today announced an agreement to reject all court proceedings between the two companies around the world", the two companies reported.
"The agreement includes Apple's Qualcomm payment. Companies have also reached a six-year license agreement, starting April 1, 2019, which includes a two-year extension option and a multi-year chip supply agreement," they added.
The announcement does not state how much Apple will pay, but it is clear that Qualcomm is again an apple company supplier.
The actions of the chip maker have increased 23.2% on the stock market, while those of Apple remained stable.
Apple accused Qualcomm of using its dominant position to charge high prices for its patented chips that allow smartphones to connect to cellular networks.
The two companies faced the first complaint lodged by Apple in January 2017.
In the second in San Diego, the iPhone manufacturer not only refused to pay, but also demanded what could be billions of dollars in compensation.
Qualcomm, which made great progress, since much of his income came from copyright recovery, denied Apple's argument and claimed that his only reason to go to court was to negotiate prices down.
Business model
After choosing a jury at the San Diego Federal Court, the presentation of the arguments began on Tuesday.
Apple and Qualcomm, Tim Cook and Steve Molenkipf during the process, had to declare that, according to the foregoing, it would take a month.
"In order to be able to buy Qualcomm chips or get access to patents offered as a mobile standard guarantee, Qualcomm asks third parties to pay a much larger royal family ", claimed Apple.
"This means that in the case of the iPhone, when Apple engineers create a new revolutionary new security feature, such as the" Touch ID "that provides state-of-the-art technologies such as Apple Pay, Qualcomm insists that royalties for these and other innovations in which they have not contributed and the payments have increased, "he said.
At the beginning of 2017, Federal Trade Commission of the United States sued Qualcomm for alleged violations of antitrust law when selling certain components and licenses for smartphone manufacturers, including Apple.
In April 2017, she was forced to pay $ 815 million to Canadian BlackBerry in a dispute over royalties.
And from 2015, among punishments and contracts, he pays high monetary penalties in China, South Korea, Taiwan and the European Union.
The dispute between Apple and Qualcomm also led to patent procedures. Although Apple claimed that some of Qualcomm's patents were invalid, Qualcomm accused Apple of violating or even attempting to ban the sale or import of iPhone in several countries, including the United States. This led to contradictory court rulings.
In March, the US court ruled in favor of Apple, hours after the judge of the same round ordered a partial import ban on iPhone
A few days earlier, Qualcomm reached a point when Apple was ordered to pay $ 31 million for infringement of a patent.
And also at the end of 2018, it received a ban on the sale of certain iPhone phones in China and Germany, also for infringement of a patent, the failures that Apple can bring.