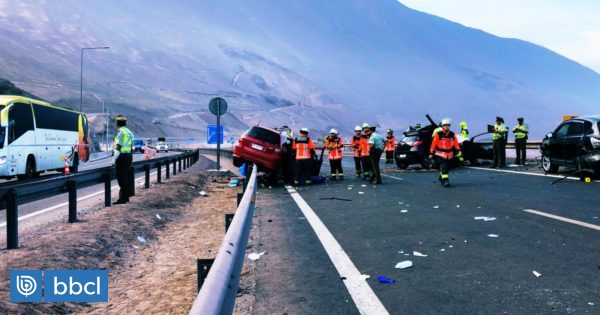 The accident was recorded on the morning of January 1 on the coastal road 1, the road linking Iquique to the airport Diego Aracena.
The fact, at the end of this edition, left five dead and four wounded, as the county prefect, Col. Lewis Roa, confirmed in a conversation with Radio Bio BIO in the area.
The fifth victim died in the Emergency Department at the regional hospital in Iquique while receiving medical assistance, the official added.
Although it is known that others four survivors are seriousRoa said he did not know if anyone had a risk of life.
More precisely, the clash occurred in one of the curves of this concessioned route, in the sector of Playa Blanca, and included a total of four cars.
First, according to the public prosecutor on duty, security cameras records managed to confirm this a vehicle was moving against transit, in the north-south direction, about 10 kilometers before hitting another mobile phone.
His driver did it under effects of alcohol.
After that, and by volume, two other cars clashed with these machines.
According to Roa on Radio, Carabineros's SIAAT produced a technical report, written that it has already been submitted to the Public Ministry.
The traffic will return after rigorous tests at the scene of the accident have been completed.
#IQUIQUE 09:10
Prosecutor Gonzalo Guerrero confirmed that the number of people killed in an accident increased to 5.
The cameras realize that one vehicle was moving against traffic in the Concessioned Road sector, Playa Blanca.
Four seriously injured in the regional hospital @biobio pic.twitter.com/rT6yvymWhF

– Cristian Nuñez Fica (@HombredeRadio) January 1, 2019