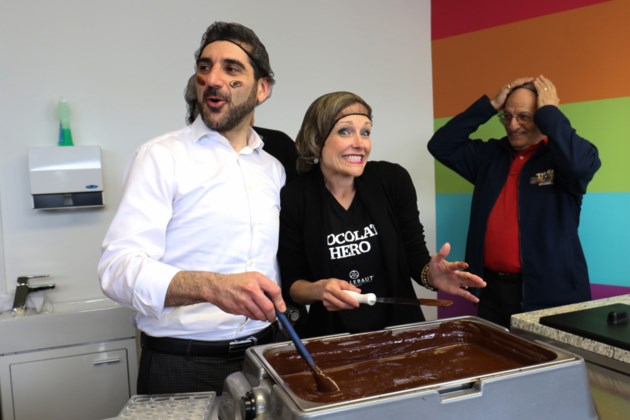 The Ontario government provides a Sweet Change Chocolate Company with $ 73,755 to help the social enterprise project get out of the country.
The business – owned by the Center for Social Justice and Good Practice – will help the mentor and train people to work in the chocolate maker's manufacturing, wholesale and retail sector, located at the corner of Queen Street East and Gore Street .
"We started the business because we wanted to teach people about production, big and small skills, and we had to have a practical environment," said Christina Kutu, executive director of the Center for Social Justice and Good Practice. "So we looked for a teaching channel and found that chocolate is really a great way to teach these three basic skills."
"We believe that by exiting our one-year program and graduation, the participants will have a really big understanding of the business model," "They can be better employees because they will understand what an entrepreneur needs to start a business, but they will also have the skills that motivate them and the confidence they need to get whatever they want to do – education, entrepreneurship or employment. "
Sault Ste. Marie MpP Ros Romano, who on Friday accompanied Sweet Change Chocolate shareholders on Friday to announce funding, said funding would be used for equipment and for creating two full-time jobs.
"It will be used to expand existing training programs here, and buy some equipment so that the facility can move forward," Romano said during a Friday announcement. "In addition, this funding will enable the creation of two new full-time jobs."
The Center for Social Justice and Good Practice, together with partner agencies, aims to train 150 people over a period of five years in order to help people find employment, start their own business or gain a higher education level.
Mike Nado, Chief Executive Officer for Sault Ste. Marie's Social Service Board (DSSMSSAB) says the social services board desperately sought a social enterprise with which to co-operate.
"This year we will have 15 people from Ontario Actions who will go through the training program," said Mike Nado, Chief Administrative Officer of the Sault Ste. Marie Social Services Administrative Board. "We are committed to basically putting 75 people through the training program over the next five years, so we're really, really encouraged with the results."
"The manual approach, the mentality that the center can provide, is exactly what people need for social assistance. What the center does is give them a dream, giving them a chance."
Coutu says the Ice Cream Chocolate Company – which is funded through federal and provincial financing, together with the help of DSSMSSAB and other sources – ultimately sees sustainability.
"Through the sale of chocolate, we will be able to create a sustainable business model for the Center for Social Justice and Good Work, so we do not have to rely on government funding," Kutu said.
The company "Sweet Chocolate Change" is currently in the process of acquiring additional equipment for making chocolates, with the renovation of the new company that has been going on over the past few weeks.
"It will take us a little time to get started and people will realize that we have a local product here that is not just chocolate, but will change through chocolate by creating many great things in our community with people we work with," said the director of Center for Social Justice and Good Practice, Frank Sarlo.
Source link