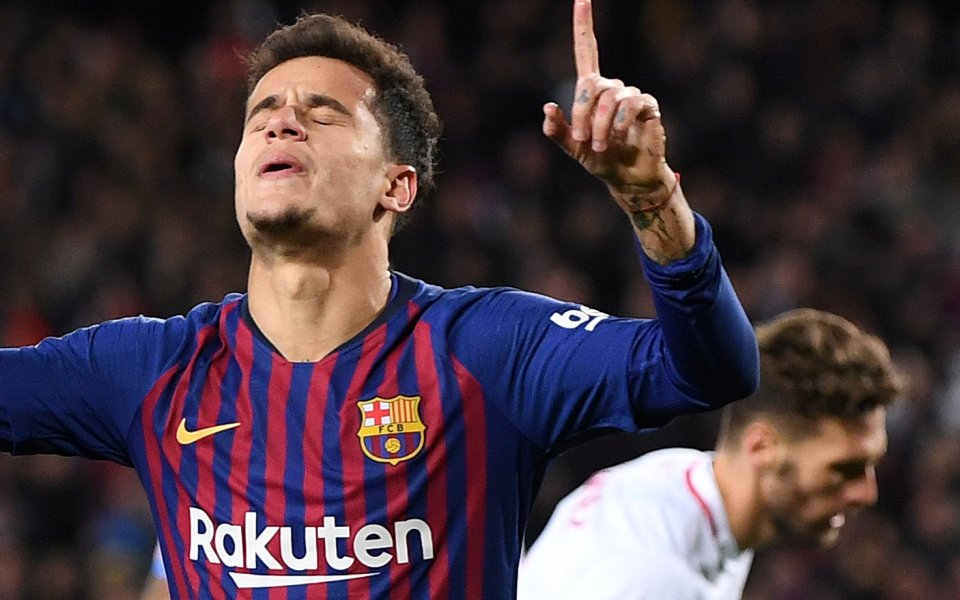 Barcelona's Barcelona star Lionel Messi did not give up the penalty against Sevilla to his colleague Filip Cotinho, but also gave him the happiness he got at the World Cup.
Barca defeated Sevilla's team 6-1 and qualified for the semifinals of the King's Cup tournament in Spain.
Philip Coutinho, who had problems in the first months of Barcelona, ​​scored two goals in the match.
The first was a penalty, and the Catalonians were led by 1: 0.
Leo Messi also scored in the match, referring to the final sixth goal for the final success.
Worrying fans saw a curious detail that was widely commented on the social networks during the match, namely that Philip Coutinho got Lionel Messi and a cranial crack that was given to him by a journalist and handed him over to his mother.
Messi handed him a good ribbon yesterday to give him a reporter at the World Cup in Coutinho and gave him the punishment, as well as to help him regain the form and score braces. pic.twitter.com/qk558LIK2F

– Gix (@ GasserAbdlrahm1) January 31, 2019
Messi: "I offered Coutinho a red ribbon I got to Russia for some good luck."

"Messi asked me to wear the red ribbon he got at the World Cup. Thanks to Messi for letting me punish him, he is great and these gestures show how great he is." pic.twitter.com/9Rxhfjr7zO

– Barca Galaxy (@ barkagalaxy) January 31, 2019
? #Coutinho: "Messi asked me to wear the red ribbon I got at the World Cup thanks to Messi to allow me to punish him, and he is great and these gestures show how great he is." Wow..?? pic.twitter.com/MctdwImGnZ

– # ALFREDO .. !!! (@ acab2006) January 31, 2019
Messi: "I offered Philip a red ribbon I got in Russia with some good luck. He scored two goals tonight and helped the team, so I guess the ribbon helped haha." pic.twitter.com/iuVvLMH974

– Barcelona in the world (@BarcaWorldwide) January 31, 2019