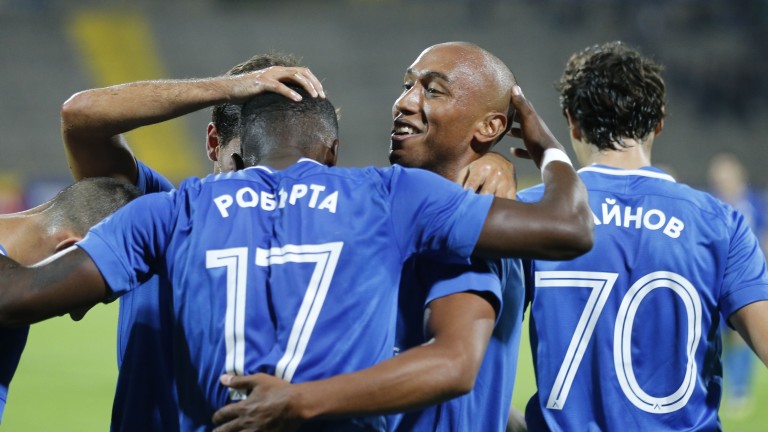 90 ′

Tournament: A group
Stadium: "Vivacom Arena – Georgi Asparuhov", gr. Sofia
Beneficiaries: 4966
| | | |
| --- | --- | --- |
| 90 ′ | | END OF MOTHER! |
| 88 ′ | | Flt card for Paulino. The situation of the talc idol Peter Lubchev, this was an official warning issued by Volen Yinkov. |
| 87% | | Flt card for I got stuck, which made a very gross disruption to Mazurek. |
| 86% | | GOVERNMENT FOR LEVS !! 3: 1 !! PAULINCHO! By the end of the attack, "Gerena" was serious. The guests from Vraca play the prima mana in Ataka, together on the terrain of Bozinov, Budinov and Domovcilski. The hopes of the "green" baby boom quickly dissipated, with Paulino scoring 3-1. An uproar began following a glorious breakthrough on Stanislav Ivanov's wing. It ended with the passing of the Brazilians, who had landed in Kostov's territory. He had a double ricochet on him, followed by a leather clasp on Botev's net. |
| 82 ′ | | Flt card for Andreas Vasev. Defendant advises Paulinto illegally. |
| 78 ′ | | Lost in the queues of Botev. Valery Bozinov turned on the ground. Residents Will play with three attackers of "Gerena". |
| 75 ′ | | TIAM !! Levski proceeded to make a passable pass for closing the cat. In the 75th minute Halle Thiam leaned behind Budinov, but the paddle aimed the leather club only at the upper beam of the servants. |
| 71 ′ | | An interesting cast in Levski's leg. Nuno Reich Will play like a stiff halftone, substitute Filipe Nashimento. |
| 70 ′ | | Sasho Angelov plays Botev's attack. Miroslav Budinov replace Daniel Gadzev. |
| 67% | | Smashed into Levski's body. Martin Raynov be replaced Franco Mazurek. |
| 66 ′ | | IVANOV !! Levski could quickly emerge from the shock of the overflow. Mladiyat Stanislav Ivanov came out alone in the middle of the sprint, but did not observe the necessary stiffness and shot above the upper beam. |
| 61% | | GOAL FOR BOTH !! 1: 2 !! DANIEL GENOV! Gradually, the "Gerena" meeting has not achieved an idle pace. The tomatoes are fired and they are then served. Dominik Yankov made a good save at center-back, as he traded home runs to Domovchiysky, but he did not keep track of all the kurgas and thiamas. Young goes on about Daniel Genov, who's a lovely diagonal shot above the "green" in the match. |
| 47 ′ | | A CHANCE FOR LEVES !! Petri Lubchev's respondents could mark the second hour and the third goal in their own right. Roberta ryazko changed direction between Vasev and remained alone with Kostov. Tozi was the winner of the individual battle, and in the quest for supply, Paulino's shot was defeated by Venci Kerchev's goal. |
| 46 ′ | | The first death in a duel. That's for the guests. Angel Laskov analysis, its most likely Dominik Yankov. |
| 45 ′ | | THE GAME IS SUBJECT! |
| 45 ′ | | LIVING! |
| 44 ′ | | |
| 43% | | MICHAEL! The end of the halftime could have had an idea of ​​a more positive character if in the 43rd minute a terrible shot from Mihailov's long distance was not saved acrobatically by Milan Mijatovich. At corners, serious grinding is being done in Levski's field, but the housewives' choice is off. |
| 41 ′ | | Botev Half Cardboard Half Card – Ivaylo Mihalov, what a perfect test of Levski's rapid counterattack. |
| 34 ′ | | Levski's football players have complete control over the match. At the moment the "blue" moment is not a new, more interesting situation at Botev's door. The game is primarily centered on the field. |
| 26 ′ | | GOVERNMENT FOR LEVS !! 2: 0 !! ROBERT! Levski needed to start his class to double his lead. Pauline saw the vast swath of space, which had between Najdzhil Roberta and two of Botev's guards. The national team of Krasno stayed alone with Kostov and extended the class by 2: 0! |
| 23% | | Flt card for Ilya Milanov, who allowed you to squeeze in the main. |
| 20% | | From the half-timbered foul kъsmeteta rehearsed Philippe Nashimanto, who sent the leather kilo over the stump and over the upper beam. |
| 19 ′ | | First yellow card in the match. It's crazy Angel Laskov due to disturbance by Stanislav Ivanov. |
| 18% | | Saso Angelov's residents were given a good chance at their own expense in the 18th minute. Daniel Gennov has a very good look at the distant beam of Georgi Vilchev. Играещият като плеймейкър today a footballer tries to get the ball into the danger zone just in time. But the leather club broke apart and brought a bunch of downloads from the "blue" audience. |
| 11% | | GOLDEN GOAL !! 1: 0! EHOLSON! The logical toss happened twice when, in the 11th minute of his teammates' fall, Holmar Edolfson fell. Iceland is centered on a corner-kick to Nashimanto's corner and left no chance for Krasi Kostov. The blame for the Scandinavian defeat can also be attributed to Valeri Domovcilski from Botev, who did not care for his own personal opponent. |
| 7% | | CARGAS! The response of the lefties did not stop, and Younis Kargas, albeit a small one, could score in the 7th minute. The Greek footballer turned on the center of the foul and the next ricochet on his hamstring did not defeat the Supernatural. |
| 5 ′ | | The highlights of the meeting are a surprise to the fans of "Gerena". Botev (Vratsa) plays with an idea of ​​boldness from his opponent as Kato nyakolko reaches good centrality in front of Miyatovich. Sure enough to say good-bye to him was Holmar Edolfson. |
| 1 ′ | | HAPPY MOTHER! |
Levski's and Botev's (Vratsa) selections are the only match in the champion's overall program. The Hosts are the third consecutive league success to top the list of big competitors in the Ludogorets competition in a matter of weeks. Between the teasers tonight there is a serious intrigue, as last year they delivered one of the great sensations for the season, winning the "blue" in the middle of its football match 1: 3.
Petar Lubchev's selection has been settled in a stripped naked form, as the last three matches have yielded 10 fouls. Shielding is at a level that has only been prolonged forever for all time.
Stanislav Kostov is the only permanent contender in Levski's league. Fast forward to the footballers, who have a break in the middle of Spartak (Varna) – Miyatovich, Edolfson, Zivko Milanov and Najdzhil Robyarta pivot between the starters 11.
Botev (Vratsa) is without a win in the last three matches. Star-coach Trendy Sasho Angelov has been pressing Valery Bozinov's move to bring confidence to his teammates, who have only won two of the first 10 games. Bozhigol assured him that he had no sense of revenge, no doubt, that he had no absolute chance to prove himself to Peter Lubchev in Levski.
Vracani will go without contention Apostol Popov, and in the center of the shield will be Ilija Milanov and Vencislav Kerchev. On Wednesday on the field, the weightlifter Will drop Daniel Gadzev and Hristo Zlatinski.
The main speakers at the meeting are Volen Djinkov, assistants Ivo Kolev and Martin Venev. Hristo Botev is the delegate of the BCS, and Martin Bogdev will follow the work of the reporters.