The executive director of Ludogorets Angel Petrichev recently celebrated 10 years since taking office at the club.
Here is what the director of champions wrote:
"Dear people of Ludogorets! It has been 10 years since I officially became part of the idea for Ludogorets.
I want to take this opportunity to thank everyone in the Ludogorets family with whom I have worked over the years.
It is an honor for me to be part of this great team of CHAMPION. Thanks also to all the people for the hospitality and friendship.
ONLY CRAZY! ".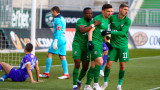 Ludogorets defeated Etar and took the lead with 6 points to CSKA, Kesheru shone with 4 goals
The champions outplayed their opponent more than a man