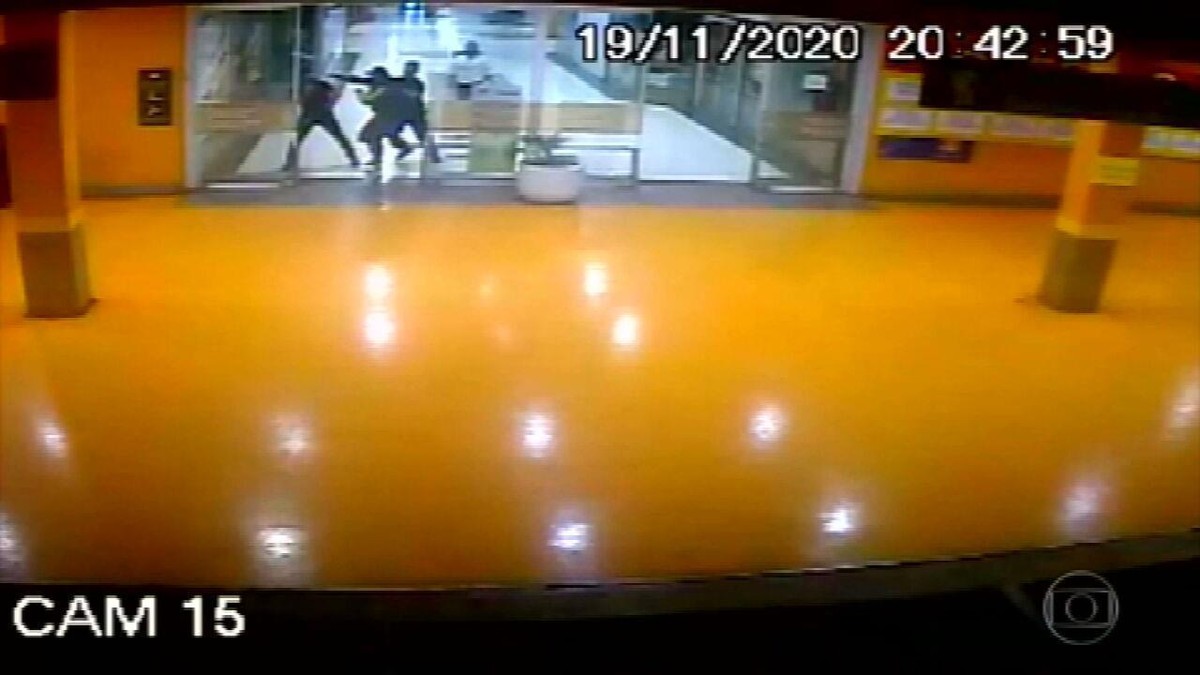 Rio Grande do Sul civilian police are working on several fronts to try to clear up all the circumstances that led to the brutal murder of Joao Alberto Silveira Freitas by two guards Thursday night (19) in the Carrefour unit in Porto Alegre.
In the new video, obtained by "Fantastico" this Saturday (21st), it is possible to see the events before the beating of Joao Alberto, where two guards follow him and punch one of the employees before he was brutally beaten to death.
"Any kind of disagreement, whatever it may be, would never be justified in order to commit such violence as happened during this action, to these security guards at that supermarket," said Chief Roberta Bertoldo.
Also, according to the delegate, since Thursday the police have been working in order to "specify the behavior of all people, so that everyone will be held accountable because they are involved in this criminal action".
The investigation is hearing information from people linked to the victim and also from those involved with the defendant, according to Roberta.
"Then we looked for pictures from the security cameras in order to better clarify where the real truth of these facts lies. "But what is important at that moment is to assess the behavior of these two people who acted in an extremely deteriorating way in terms of retaining this client," said the delegate.
The two assailants – military police officer Ovovane Gaspar da Silva (24) and security guard Magno Braz Borges (30) – were arrested in connection with the incident and remanded in custody on Friday afternoon.
"Objectively, we have two people arrested," said the delegate, adding: "We are now working to identify other people who may have contributed to this outcome in terms of their omissions and also the actions taken, whether they are major or minor. "Everyone will have their own behavior judged and held accountable based on this tragic result."
Police are analyzing images to try to identify other people at the scene, to clarify what really motivated the disagreement and to know if there is a lack of assistance in the case.
Reaction and manifestations
Joao Alberto's father, Joao Batista Rodriguez Freitas, told G1 on Friday (20): "Even if it was a blow, I do not think it is a reason to take a person's life." He called his son's murder a "cowardly attack" and an "act of racism".
The assassination of Joao Alberto has led to demonstrations across Brazil against killings and racism in the country. Authorities, academics, social workers and individuals have issued several statements denying the killing.
President Airair Bolsonaro said racial tensions were imported and "foreign" to the country's history. Vice President Hamilton Mourinho mourned his death, but said there was no racism in Brazil.
"Fun, partner": souvenirs and a request for justice
Joao Alberto was buried this morning (21) in Porto Alegre. Friends and family paid their last respects to the victim.
Very upset, Joao Alberto's wife, Milena Borges Alves, demanded justice. "I have nothing to say. I just want justice, I want to pay."
One of his daughters, Thais Amaral Freitas, thanked the family for their support. "We even feel good about it, but it still doesn't bring life back. There's not much to talk about once you see those pictures."
A close friend of the welder, Noah Fernando Pitan, also paid his last respects.
"Playful, fun, even a partner, even I have a club jersey he gave me, and he wanted to wear a hat, a club jersey. There is no way to accept such a thing, no way, no one will explain it to you there," he said.
Arrest by hand and internal investigation
The two assailants – military police officer Ovovane Gaspar da Silva (24) and security guard Magno Braz Borges (30) – were arrested in connection with the incident and remanded in custody on Friday afternoon.
Initial analyzes by the RS General Institute of Forensics (IGP-RS) indicated the possibility of suffocation as the cause of Beto's death.
"We are waiting for the outcome of the forensics and other investigations," lawyer William Vaccari Freitas, who is defending Magno, told G1.
Lawyer David Lille, who took over the defense, said his client had reported that Joao Alberto was "upset" and "ran into a lady" at the supermarket. They must be charged with three counts of qualified murder.
Carrefour Group's global president, Alexander Bombard, called the death of Joao Alberto Silveira Freitas a "horrific act" and said he rejected intolerance.
Bombard also said he had asked the group's teams in Brazil to work with justice and authorities to "bring to light the facts of this horrific act." When he said measures had been taken regarding the contract security company, the executive said: " these measures are insufficient. " On Friday, Carrefour in Brazil already announced that it would terminate the contract with the company responsible for the guards who committed the aggression.
In a note, the company said it was the saddest day in its history, that it would donate the results of that day's sales to anti-racism entities. Carrefour terminated the contract with the outsourcing company, and the company fired the employees.
Watch more videos on the Joao Beto case
DEATH OF GJOGHO ALBERTO IN PORTO ALEGRE SUPERMARKET
Source link