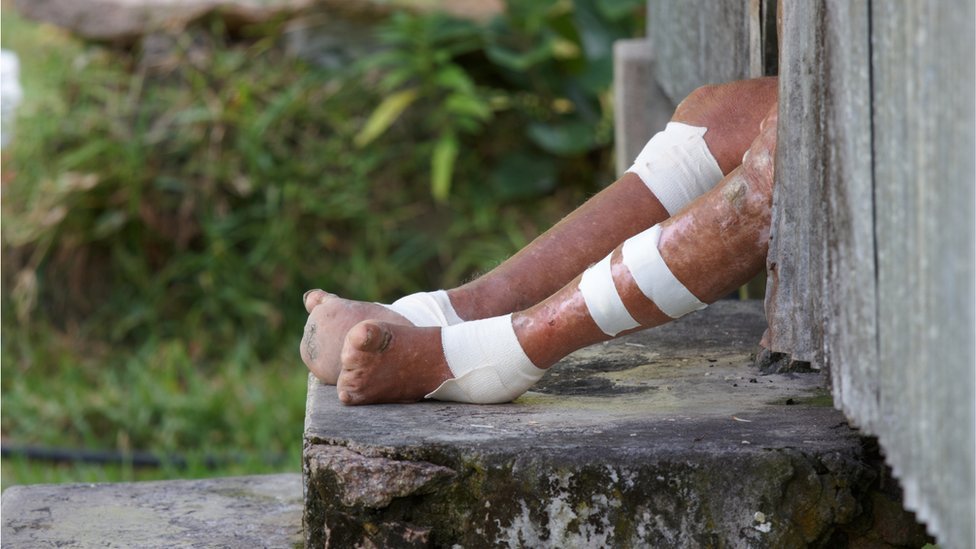 About one billion people in the world – one-sixth of all people on the planet-have been affected by the so-called. "Neglected diseases" – diseases that the pharmaceutical industry has no interest in research, according to the World Health Organization.
The reason? "They are related to poverty, they do not have much interest in the market because they do not give a lucrative return," explains Synval Brandao, a researcher at Ficusus and president of the Brazilian Tropical Medicine Society (SBMT).
The WHO classifies 17 pathologies as neglected tropical diseases. They differ from each other, but they share the fact that they touch mainly low-income or poor people in poor places and in developing countries.
Some of the pathologies have been known for centuries, explains Ethel Masiel, an epidemiologist at the Federal University of Espirito Santo (UFES).
Several of them have already studied at school: taniais, leprosy, Chagas disease, schistosomiasis, sleep disorder, trachoma, onchocerciasis, lymphatic filariasis, among others.
For many who live in the great urban centers of the First World, there is a (wrong) impression that they are diseases of the past that have been eradicated. After all, in huge parts of the world where living and hygiene conditions are improved, they are no longer a problem.
But they remain very present, concentrated in poor regions of the world, in remote rural areas, in favelas, and in urban areas without sanitation – including (and in large numbers) in Brazil.
"Brazil accounted for 70 percent of the world's deaths from the Chagas disease in 2017, contributing to 93 percent of new cases of leprosy and 96 percent of the cases of visceral leishmaniasis on the continent, just to name a few," said Jardel Kats, research and development of the NDDA (Initiative for Drugs for Neglected Diseases).
If so many people are affected, why not talk about these diseases? They are silent, says the WHO, "because people affected or at risk have a little political voice."
"Sometimes attention comes to people when they leave the low-income circle and poor places where they are usually endemic and reach middle class, rich neighborhoods," says Ethel Matsiel. "This is the case with dengue, for example."
Some entities consider a larger group of illnesses on the neglected list. The G-Finder project lists 33 diseases in its annual report on neglected diseases, including tuberculosis and malaria in the list. The project is organized by Policy Cures Research, a research center devoted to finding ways to promote the health of the poorest people in the world, sponsored by the Bill and Melinda Gates Foundation.
According to Jardel Katz of the NDI, all 33 diseases examined by G-Finder are present in Brazil, to a greater or lesser extent depending on the region.
The Ministry of Health in 2008 defines seven neglected diseases as a priority in the country, based on data on its impact in Brazil: dengue, Chagas disease, leishmaniasis, leprosy, malaria, schistosomiasis, and tuberculosis.
The problem is that, in an area that is dependent on public investment, government spending on research and development falls. According to a recently released report by G-Finder, the government has reduced 42 percent funding for research on neglected diseases between 2016 and 2017.
The old treatment
The lack of interest in the pharmaceutical industry causes these diseases to have very old treatments with limitations, poor efficiency and adverse reactions, Katz explains.
One of the main treatments for leishmaniasis, for example, is a substance called an anticonvitis, which kills the protozoan that causes infection.
"It's a treatment that's over a hundred years old and very toxic. One goes into treatment and can have heart or kidney problems," explains epidemiologist Guillermo Werneck, a Harvard doctor of public health and a professor at the State University of Rio de Janeiro (Uerj ).
"There is another drug, Liposomal Amphotericin B, but it's very expensive and is quite toxic," says Werneck.
Ethel Matsiel explains that the difficulty is not only for healing, but also for prevention and diagnostics.
"In the fight against dengue, the way of fighting the vector (mosquito-borne virus) is the same since the 1980s in most of the country," she says. In the case of dengue, today there is still no specific drug and only one vaccine, which has low efficacy.
Research and development
"For these diseases, the public sector finances more research, and that brings important breakthroughs. But for innovation and treatment problems, partnership with the private sector is important," says Werneck.
This is because when it comes to progress in the field of health in general, universities and public institutions most often make most of the so-called basic scientific research (by studying triggers and how to fight them), explains Yadel Katz.
The study on the creation and application of medicines correctly ends with a private initiative, which has more money and structure – besides the economic interest in it. "They are taking care of this step, where there are regulatory problems, clinical trials, which require patient participation, money," says Katz.
In addition, there is a third stage, a production that requires a production infrastructure.
In the case of neglected diseases, however, almost all research and development is carried out by the public sector or non-profit institutions, mainly foreign.
"This is an extremely dependent area of ​​public investment," explains Sinal Brandao.
But even if the public sector and academia invest in research, progress is much more difficult without the infrastructure of the industry, especially in the creation of treatments and drug production.
In Brazil, public institutions such as Pharmginhos Pharmacological Laboratory Fokruz do this work, but they are still few and can not have a production level comparable to that of the private initiative.
"Because it's not a pure business, you have to have development alternatives," Katz says. "Bring partners to talk, both in government and in science, and in thinking to have an industrial partner. You need to have different partners that dominate in different stages of production."
Reduce investment
In Brazil, there is great concern about the fall in government investment in these diseases.
According to G-Finder's report on investing in research and development (R & D) in neglected diseases, investment in Brazil has fallen so much in recent years – despite growing in the world, where it reached the highest level in 2017.
According to a survey released last week, the total investment in the area in Brazil was $ 29 million in 2017, 42% less than in 2016, which Brazil took over from the list of twelve largest global lenders.
"We directly feel this reduction in budget cuts," said Sinval Brando of the SBMT. "The decline in investment, which has already been felt in recent years, in 2017 and 2018 was much higher, interrupting projects and laboratories for closing."
According to the report, between 2016 and 2017, the decline in public funding is a result of the upper limit of spending, which caused a reduction in two funding agencies: the National Development Bank (BNDES), which had a reduction of R $ 15 million in investments; and the São Paulo State Investigation Support Foundation (FAPESP), which fell by $ 14 million.
"This total reduction is extremely important in an area that has so little interest for the private sector," says Brandão.
This has affected virtually all neglected diseases considered by the Ministry of Health in Brazil as priorities.
Investments in malaria research fell by 15%. For leishmaniasis, the reduction in funding was 63%. For tuberculosis, the reduction was 45%.
About Chagas disease – a problem for which, for five years, Brazil was the second largest research funding – a decrease of 74%.
Only two diseases had an increase in investment. One of them was dengue, which grew by 41%.
The other was schistosomiasis, which significantly increased from $ 500,000 in 2016 to $ 2.8 million in 2017 – an increase of 460%. According to the Ministry of Health, some 1.5 million people live in areas of risk of contracting the disease.
What the government says
When it approved spending tariffs in 2016, the government has repeatedly said that the upper limit of the budget will not affect health and education – several conspirators have done so, including ministers Henrique Meirelles (who was in the Treasury) and Dio Oliveira (Planning).
When asked by the BBC Brazil, the Ministry of Planning said it should be the Ministry of Health. "Money comes out of the budget for the agency, decides where and how to pass," the ministry said. note.
The Department of Health says the Decit Department does not reduce neglected diseases and maintain research through partnerships with government agencies such as CNPq and Finep, but does not match the cuts made by funding agencies.
The ministry also says Brazil has "a high burden of inseparable diseases, in addition to contagious and neglected diseases".
"For example, in 2016 and 2017, for example, in countries where there is a lack of resources, there is a need to allocate more or less resources for certain diseases. Emergency Zika, there were more investments in research related to mosquitoes Aedes aegypti. "
The folder highlights data from a G-Finder report pointing to Decit as one of the largest fundraising research vectors for control in 2017. It is also said that other areas of the Ministry of Health and the research of the federal government foundation are not included in the report, "but did not specify what diseases and how much is invested.
However, the ministry has listed a list of actions to combat neglected diseases that do not involve research and development (and therefore are not in the G-Finder report), such as "additional commitments exceeding $ 10 million for malaria control in countries with the highest register of cases ".
"As for leprosy, the Ministry of Health annually implements a campaign to alert the population for signs of illness, stimulate the demand for health services, and mobilize health workers in the active search for cases, which favors early diagnosis, timely treatment and prevention of disability, "the ministry said in a statement.
The body also emphasized the National Plan for the End of Tuberculosis as a public health problem, started last year and "joint action with state and municipal health departments in the control of leishmaniasis", in addition to the free diagnosis and treatment offered in SUS for diseases .
Source link