[ad_1]
Corinthians' third training session on CT Joaquim Grava Sunday focused entirely on face-off with Internacional on Sunday at 6pm at the Arena, Itachera, for the 33rd round of the Brazilian Championship.
With the specific task of transitioning to attack and getting out of the ball, Diego Coehoo made an overview of the likely starting team to go before the Cubs. In all, there were five news presented by the coach on Thursday.
Injured in recent games, Casio and Hagner are expected to return to the first team. Just like Ralph, who must get into Gabriel's suspended post. On the offensive side, the highlights are the announcements of Sornoza and Mathews Vital in the places of Ramiro and Pedrino (summoned by the Brazilian national team for up to 23 years for the Spanish tournament).
Therefore, Koehoe began training with the following names among the carriers: Potassium; Hagner, Manuel, Gil and Abelar; Ralph and Sornosa; Bear, Vital, and Henderson; Mauro Boselli.
However, towards the end of the activity, the report worries Timon's entire medical department. After parting with Marlon, Matthews Vital left the activity with pain in his right ankle and unable to pull on the floor. The player then becomes suspicious of the next appointment – adaddson was substituted in the last minutes of training.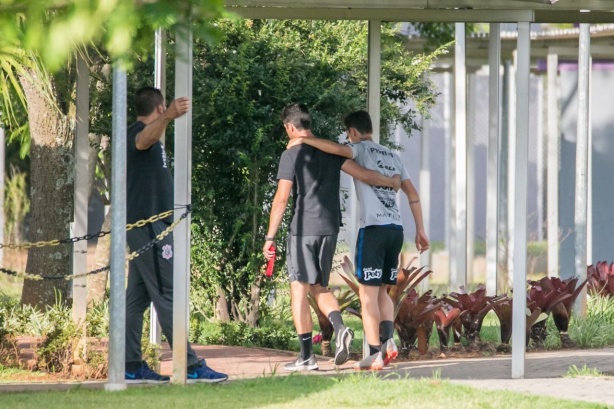 With this, the tendency is for Corinthians to face the International with Potassium; Hagner, Manuel, Gil and Abelar; Ralph and Sornosa; Hulk, Matthew Vital (Hudson) and Henderson (Clayson); Mauro Boselli.
Suspended Gabriel, Michele Macedon, with muscle pain, Fabricio Oja and Regis did a specific job separate from the other players. It should be noted that besides Pedrino, Bruno Mendes cheated on Corinthians for being with the Uruguayan senior team.
The Corinthians will be back in training on Friday morning.
See more at:
Diego Coeho, Mathews Vital, Corinthians Training and CT Joachim Grava.
[ad_2]
Source link