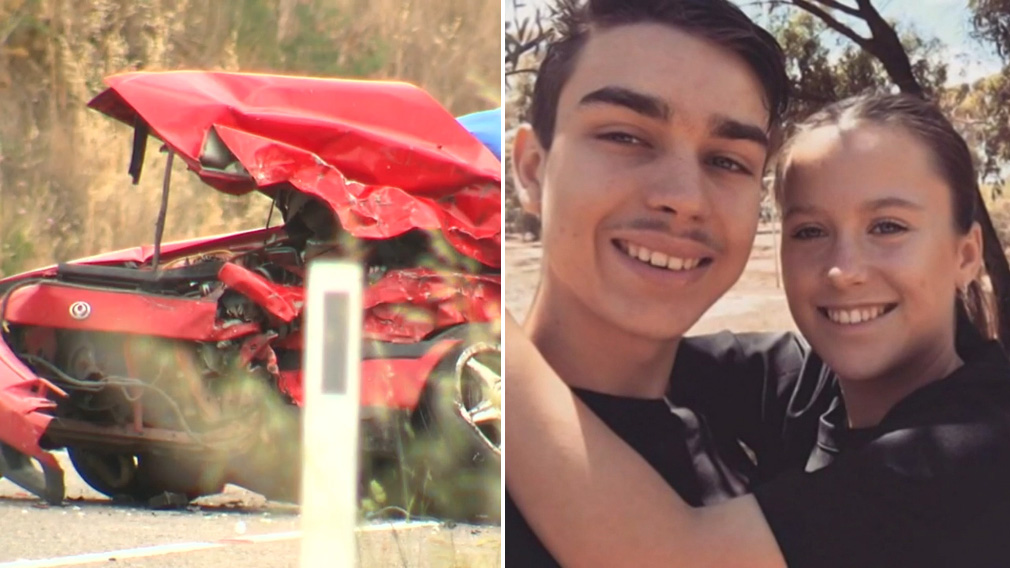 The families of two teenagers who were killed when their car collided with a teacher from their school paid tribute to "inseparable" high school lovers.
Heiden Perkins, 17, was behind the wheel of the Mazda 323 when clashing with the Hyundai i30 in Gemmels between Vista and Stratalbin – an hour in the interior of Adelaide – around 4.40 on Tuesday.
His girlfriend, 18-year-old Mikila Eastwood, was a passenger in his car and the two died at the scene.
Hayden Perkins and Mikila Eastwood were killed in the crash. (9News)
Hayden drove Mazda when he hit a car driven by one of their teachers. (9News)
Amity Richardson, 17, cousin Hayden. They are born within one month of each other.
"We were more brother and sister than cousins," Amity told 9News.
"We did everything together, we went everywhere.
"It will never be the same. It will always be different."
The couple died at the scene. (9News)
The family says the loss of a pair is "incomprehensible". (9News)
The Mikilla family remembered her today as "an independent, strong desire young woman".
The couple had been dating for two years and had just finished high school.
"They were inseparable in the last few years, they were very close and planned a common future, so it's tragic," said Aunt Mikila Kolin Kluke.
The couple's family and friends set up GoFundMe pages to help cover funeral expenses.
In just over 24 hours, they collectively raised more than $ 21,000.
"The planning of a funeral for an 18-year-old is something that is not put into the family budget," said Ms Kljuke.
"This will only give Mikala the sending she deserves.
"One tragedy is strong enough.
"For two families to experience the same at the same time, it's incomprehensible.
"It's too hard to imagine the pain everyone is feeling."
© Nine Digital Pty Ltd 2018