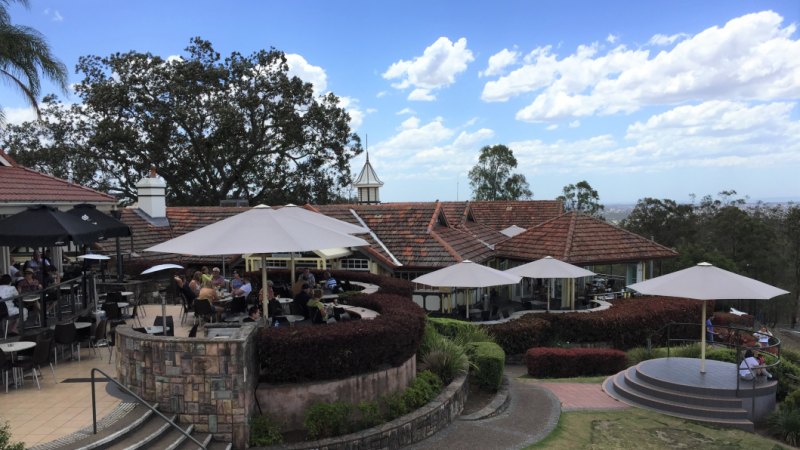 Summit events manager Kelly Bovin said she and staff had been "in limbo" for nearly a year waiting for the tender to end, with owners constantly staffing.
Ms Bavin said the award-winning area had many weddings booked in 2021, and on Tuesday night she contacted couples who offered to return their deposits and help them find new wedding venues.
Some couples had evening weddings that would be difficult to re-book elsewhere, such as river night or date 10/10/2020.
Others have already returned their deposits over the past year because they could not wait for the uncertainty surrounding the tenders, she said.
Ms Bavin said she found out through a The Brisbane Times a report Monday night that the council recommended another company beat both bids.
"I've been on the groom's phone and brides all morning, they were gorgeous," she said.
"I always said they would find out from me."
A council spokesman said all bidders, "including the current tenant, had been consulted on the recommendation of Brisbane City Council officials" after the work was completed last Thursday.
The Summit Restaurant and Kuta Cafe were given a six-month extension until February of the following year when new offers were determined.
Council documents released Monday night, ahead of Tuesday's council meeting, revealed that the council had recommended Jimmy's bid for Molly Pty Ltd to win both leases to operate a restaurant and cafe.
The winning bid proposes to pay $ 600,000 a year for restaurant hire rent and $ 400,000 for coffee, or 7% of total revenue, whichever is greater.
The bid submitted by James Sharon, who owns the current Summit Restaurant and Coffee Kuta, was unsuccessful. Mr Sharon's proposal was a basic rent of $ 236,340 for a coffee and $ 167,660 for a restaurant for an initial 10-year tenure with two five-year options.
This offer also offered a turnover of 5.5 percent less than the basic rent paid in the previous year, with the underlying rent to be reviewed annually.
Mr Sharon's bid received a 60% weighted money value, compared to Jimmy's 96.5% bid for the mall.
Loading
But an additional complication was added to the council's decision, as Mayor Adrian Freiner and his LNP advisers were forced to declare a conflict of interest.
Krriner told the chamber on Tuesday afternoon that the recommended bidder, Myimi of Mall Pty Ltd, made a $ 1808.90 donation to LNP in August 2017.
Labour's advisers also declared a conflict of interest, with opposition leader Jared Cassidy saying Jimmy at the Mall Pty Ltd made a $ 6052 political donation to the ALP that same month.
Jimmy of the parent company Mantle Group also donated $ 1760 in labor in June 2016.
The decision on which company to operate the two leases will be forwarded back to the council's chief executive Colin Jensen for final approval.
A similar incident follows last week's council session, where Labor and LNP advisers had to declare a conflict over the interest in political donations made by an insurance company.
Mr Friner said last week there was a debate over whether the legislation needed to make these statements was appropriate, but he himself could say that such a political donation would not affect his decision-making processes.
Ms Bavin said the current owners were "good people" who were strong community supporters, with loyal staff and a successful, well-respected wedding and hospitality on the mountain.
"I do not understand why this is not taken into account," she said.
"It was an amazing place to be and people need to know that."
Lucy is an urban affairs reporter for the Brisbane Times, with a special interest in the Brisbane City Council.
Source link