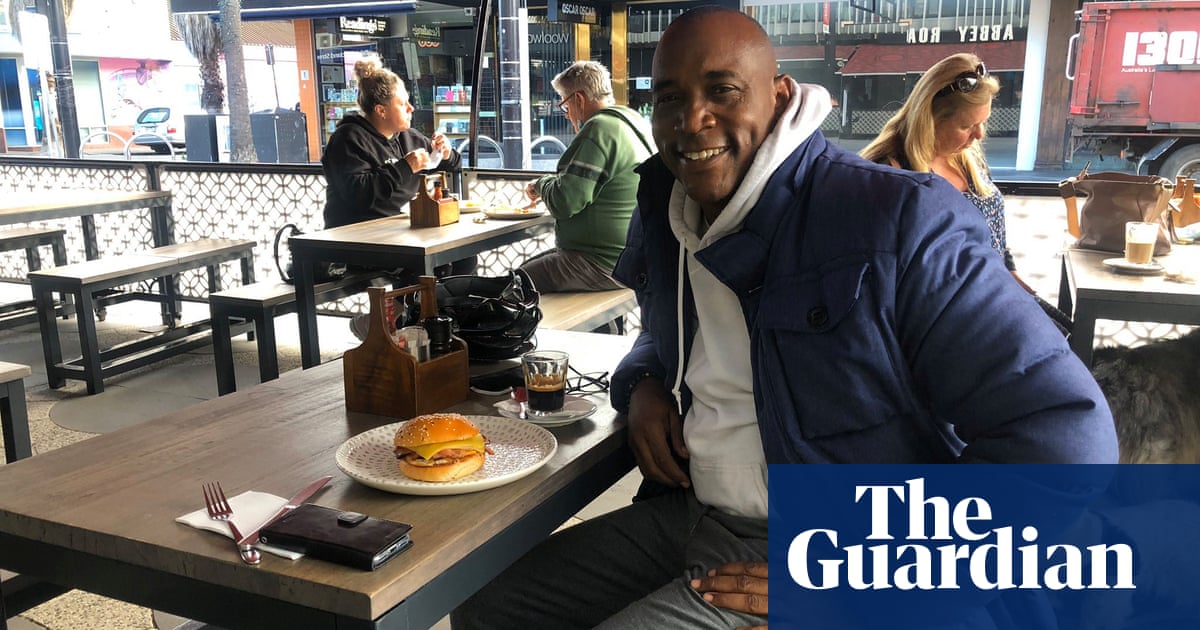 А.Barista Haley Kim spread her large canopy in front of a Leroy espresso in the early hours of Wednesday morning, with a man passing by under a mask smiling and saying "hurray!"
This is a feeling that many Melbourne people shared on Wednesday morning, as the beloved cafes in their city opened their doors to customers to sit down.
"I'm excited and nervous … I have not served coffee in a real cup for more than six months. "I have not worked in late art for so long," Kim said.
"I did not actually see Andrew's post because I was working, but clients started showing up and telling us, 'Oh my God, you can open up, you can open up again.' I was like "oh, thank God"! "
"Do you feel safe?" Kim joked to manager Adelaide Slaber as she hurried around the cafe and got ready. "I believe in you!"
Slaber was not able to fully staff the cafe with just one day's announcement, but said she was still excited.
"It will show that we can not take simple things for granted," she mocks her barista.
On Monday, Prime Minister Daniel Andrews announced the long-awaited announcement that after recording zero cases and containing several widespread epidemics, Melbourne would finally open.
There was a lot of talk about "getting into a beer" on Wednesday night, but of course, "let's get on the long blacks" first came in the morning.
Technically, Leroy is not open to customers sitting until 8 a.m., but Martin Wells and Craig Murphy sneaked in early, taking their glasses and sitting at the newly set outdoor tables.
"I wonder if this is how bears feel when they wake up from hibernation," Wales joked.
"Yes," Murphy replied, "and they filled up with pub food."
The couple rode their bikes here from Hamptom, eager to support the café.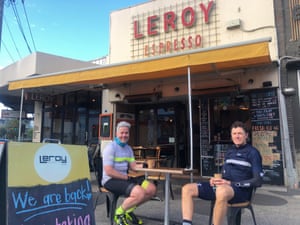 "I really want to wake up," Murphy said. "It feels like we've all been in a long, long sleep."
The two said they were most excited to "scratch the itch" and finally head to the Bannings after breakfast.
"Everyone there will just be filled with smiles, I'm sure," Wells said.
A few doors down, some of Melbourne's first customers sat down at the 7 a.m. strike at the Abbey Road cafe.
Bill Hard said he woke up extra early to make sure he was the first customer this morning.
"It just makes me feel like a Melbourne again," he said with a Texas accent that has not faded in the last 27 years he has lived in Australia.
"We really took the tables for granted, I'm very happy to be able to sit down and enjoy my breakfast."
Greg, Gary, Michael, Nigel and the rest of their cycling team wereted no time getting lattes after their morning ride.
"It's beautiful and the weather is perfect," Greg said, shining in the Melbourne sky.
"However, we are not too sure about the mask rules," said another member of the group. "Should we wear it while we sit and drink?"
At the next table above Dar Reese and Nicole Smith, who decided to come for breakfast while on an early morning walk.
"I'm not a great cook, so I can actually have things I can't do at home," Rees said.
"It just feels normal again … I think it has not started yet, I think it will last a week or so."
Smith said it was nice to see people at work.
"There are so many people here that they would not be if we were still closed."
Despite the early hours, people greet each other on the street.
"It's so beautiful, isn't it, there are people on the beach, there are people in the cafes," said one lady to a man she almost ran into.
"It just feels good."
Chef Pelden Lama from Leroy arrived at 7.15am. He said he was preparing for an influx of customers coming through the doors.
"People go a little crazy, you know. They can't go out there, they don't have that culture, yes, we will probably be busy! ".
Nick Santoil and Luke Castricum said they still felt like breaking the law, sitting outside enjoying breakfast together.
"It feels arrogant, as if we are doing something illegal. "You keep looking over your shoulder, like where the police are," Kastrikum laughed.
"It's weird, it still feels alien, because you don't know if it's the right thing to do or not, but we know it is," Santoil said. "Otherwise, yes, that's pretty great."
Kastrikum said he had already noticed a difference in the city's mood.
"Everyone seems to be very happy this morning. "People talk to random people and the energy is much better."
Some restaurants do not waste time swinging their doors at midnight on Wednesday morning.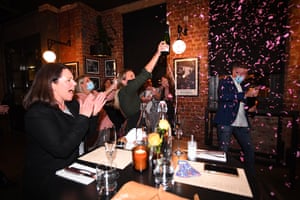 The New York-based Angus and Bonn fishing house in Prague was one such place, booking its maximum of 20 patrons late at night.
Just like on New Year's Eve, future patrons shouted a countdown, burst into champagne and cut a red ribbon when the clock struck 12.