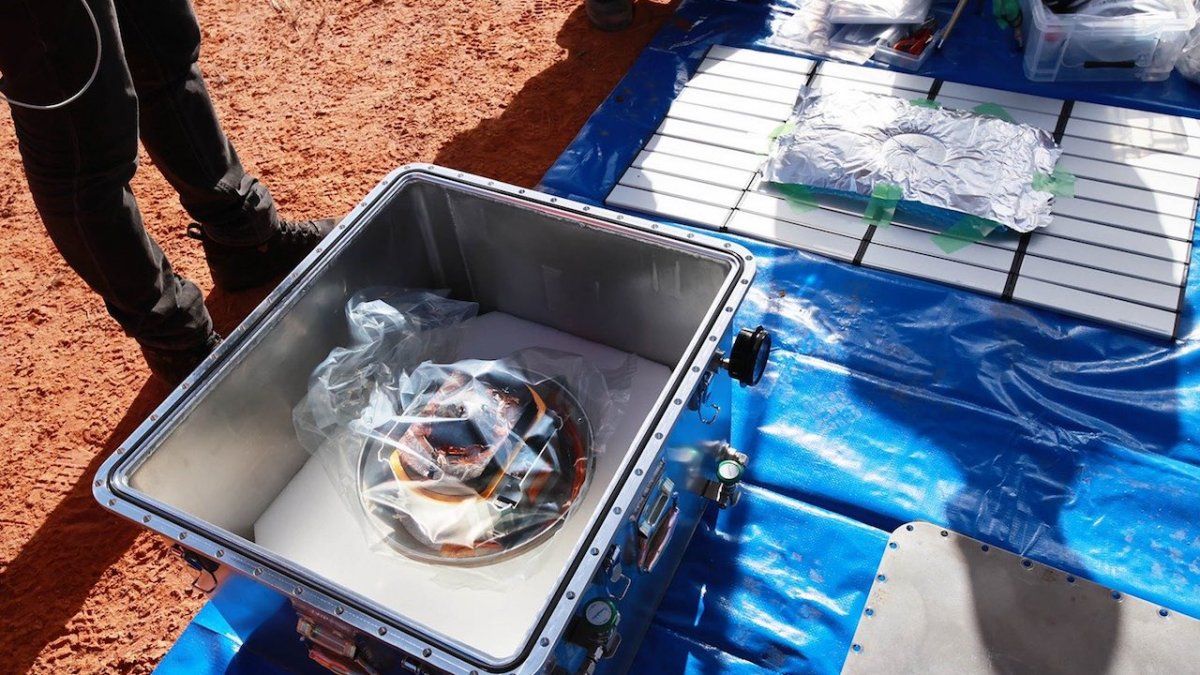 It is estimated that for the first time samples of the steroid are being taken in sufficient quantities to be able to understand its development and better understand the universe, because scientists believe that Ryugu has not changed since its formation.
The capsule, which was released from the Hayabusa-2 spacecraft shortly before it entered the atmosphere, crashed into a parachute near Wumera, a desert area in South Australia, at 2:30 a.m. today at Japan (14:30 on Saturday in Argentina).
His entry into the Earth's atmosphere produced a ball of fire drawing an arc in the middle of the night that could be filmed by Australian cameras.
"We found the capsule! With a parachute!", the mission announced on Twitter
"Six years later, he is finally returning to Earth," said the head of Japan's space program as his companions jumped and celebrated in the control room, according to the AFP news agency.
The refrigeration-sized probe detached from Hayabusa-2 at a distance of 220,000 km from the Earth and fell to an area of ​​100 km2, although recovery will be rapid, said Japanese scientists, because there are indicators that will allow its location.
Specimens from the asteroid Ryugu (which evolved about 300 million kilometers from Earth) were captured during two key phases of the Hayabusa-2 mission last year.
On the one hand, the probe was able to collect dust from the surface, and later the material from inside Ryugu, which was captured when a projectile was fired at him.
By comparison, planets like Earth and other celestial bodies have undergone profound changes throughout history, both on their surface and inward, mainly through vast warming processes. Therefore, the hope of researchers is to have this material for understanding the universe.
"When it comes to smaller planets or asteroids, these substances have not melted, so we believe there were substances there 4.6 billion years ago., explained the project manager, Makoto Yoshikawa, before the arrival of the device.
Scientists are particularly interested in finding out if the samples contained organic matter, which could have helped create life on Earth.
"We still do not know the origin of life on Earth, and through this Hayabusa-2 mission, if we can study and understand these organic materials from Ryugu, it could happen that these organic materials are the source of life on Earth," Yoshikawa said.
"We have never had such materials before … water and organic matter will be tested, so this is an opportunity of great value," added Moto Ito, a researcher at the Japan Marine Science and Technology Agency. -Earth.
Protected from sunlight and radiation inside the capsule, the samples will be treated in Australia and then shipped to Japan.
Half of the material will be shared between JAXA, NASA and international organizations, and the rest will be kept for future research as analytical technology advances.