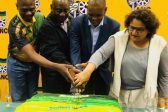 President Cyril Ramaphosa is not capable of buying the ANC.
Those who propose it deserves electoral support in 2019, in order to protect the country from radical, corrupt elements in the ANC and the EFF, do not pay attention.
The constitutional change it takes to accelerate expropriation without compensation is radical. And his plea for ignorance about the corruption of the ANC is worn thin.
Last week, the untruth in parliament for the payment of R500,000 from Bosasa was a turning point.
There are now many examples where Ramaphos claims he did not know. Gareth van Oselen from the Institute of Racial Relations listed examples.
It is incredible that Ramaphosa did not know what former President Jacob Zuma and Gupta did.
From 2012 to the end of 2017, Ramaphosa was in charge of deploying the staff of the ANC. During that period, he also chaired the inter-ministerial commission for reforming the state entity. He was deputy chairman of the party and the country.
All corrupt Zupta meetings, many in SOEs, occurred on his watch. As head of staff, and as chairman of the inter-ministerial committee for the SO, he knew nothing? Really? What kind of leader is that?
Hollow man. If Ramaphosa had all those jobs in his name, how can we trust him as an effective president?
Using a metaphor with the dog's tail, what is he?
When did the ANC vote on the idea of ​​the EFF to change the constitution, which called the strikes? Is it EFF? "Good" ANC? "The Bad" ANC? Or Ramaphosa himself? In fact there is only one ANC. It's not good. She's rotten.
Ramaphosa can not lead him in a different direction. His claim that he does not know the payment of Bosasa is his intraparty presidential campaign means that he is either incompetent, weak, corrupt or all three.
On election day, the name of Ramaphosa will not be on the ballot. People will vote for parties, not for personalities.
There will be one ANC, with all the luggage of David Mabuza, Ace Magnaule, Jesse Duarte and the gang. The ANC's large vote will allow them to raise someone from their lives to the presidency.
After years of Zuma, people understandably long for a trusted leader. But Ramaphosa is not that person.
The written record suggests that someone is lying about a donation from Bossas (now African global operations).
Ramaphosa told parliament he had asked his son, Andila, about the issue: "He actually even showed me an agreement he signed with Bosasa."
However, Andila told reporters: "I have nothing to do with this. I've never received such a payment."
Do you want to give South Africa's future to a leader who "did not know" his campaign in a criminal party party was funded by a company that sued former prison boss Linda Mati with bribes?
It is not your fault that the ANC has no free, capable leader.
But it will be irresponsible if you voted with blind faith, hoping that Ramaphosa would somehow be transformed into a responsible president.
As you know, he is Mr Angages.
For more news on your way, download the Citizen for iOS and Android.