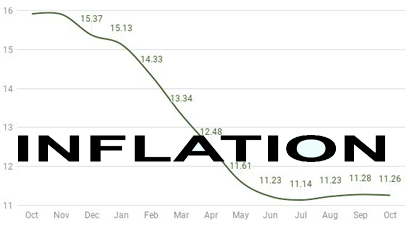 From Peter Egward and Elizabeth Adebes
Contrary to projections of analysts since the third consecutive month of increasing the inflation rate, the heading of the inflation rate in Nigeria fell to 11.26 percent, compared with the previous year, YoY in October 2018, down from 11.28 percent to year-on-year in September.
The National Bureau of Statistics, the NBS, announced this in its October 2018 inflation report, released yesterday.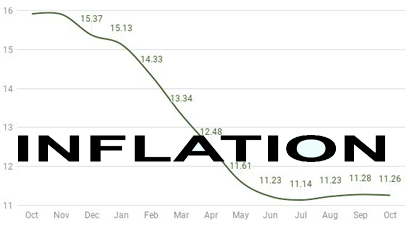 After 18 months of steady decline, the inflation rate is gradually increasing for two months from 11.14 percent in July to 11.23 percent in August and 11.28 percent in September.
Most analysts have predicted that the trend will remain in October. While FSDH Merchant Bank analysts predicted the inflation rate to rise to 11.34 percent in October, analysts at Financial Derivatives Company Limited are planning a 11.35 percent inflation rate for October.
However, these projections were overturned with the inflation rate in October of 11.26 percent, which was announced by the NBS yesterday.
Inflation report in October
The National Bank announced: "The CPI, which measures inflation, declined by 11.26 percent (this year) in October 2018. This is 0.02 percentage points lower than the rate registered in September 2018 ( 11.28 percent). Increases are recorded in all COICOP departments, which give the main index. "
"On a monthly basis, monthly, the title index increased by 0.74 percent in October 2018, down by 0.09 percentage points from the rate registered in September 2018 (0.83 percent).
"The rate of urban inflation rate in October 2018 increased by 11.64 percent from 11.70 percent in September 2018, while the rate of rural inflation in October 2018 increased by 10.93 percent from 10.92 percent in September 2018.
"Based on the MoM, the urban index rose by 0.76 percent in October 2018, from 0.86 percent recorded in September, while the rural index also rose 0.72 percent in October 2018, a decline from the rate registered in September 2018 (0.82 percent) ".
Regarding food inflation, the report notes: "The index of compound food increased by 13.28 percent in October 2018, compared with 13.31 percent in September 2018. This rise in the food index was caused by an increase the prices of fruits, meat, vegetables, potatoes, and other tubers, bread and cereals, oils and fats.
"Based on the MoM, the sub-index of food increased by 0.82 percent in October 2018, from 1.00 percent registered in September."
The report further states: "In October 2018, food inflation for one year was the highest in Baelsa (16.36 percent), Abuja (15.85 percent) and Taraba (15.27 percent), while Bauchi 12.17 percent), Oyu 11.76 percent) and Plato (11.36 percent) saw the slowest increase in inflation in food.
However, on monthly basis, food inflation in October 2018 was the highest in Kogi (2.28%), Plato (2.42%) and Nasarawa (2.17%), while Aqua Ibo, Benue, Quara and Ondo recorded a deflation of food prices or negative inflation, a general reduction in the general price level of goods and services or a negative inflation rate) in October 2018. "
Core inflation was 9.90 percent per annum during the audit period, compared to 9.80 percent in September. The highest increases were observed in the prices of fuel and lubricants, spare parts for vehicles, household and household services, carpets and other floor coverings, dental services, hospital services. Based on MoM, the core index rose at a faster pace of 0.80 percent, three balances under 0.6 percent in September.
Comments by analysts
According to analysts at Kordos Capital, an investment firm based in Lagos: "The data came in seven basic points, bps below our forecast of 11.33 percent annually and eight base points, bps above Bloomberg with an average estimate of 11.34 percent on annual level ".
Also, Vetiva Capital Management analysts said: "Inflation in Nigeria reached 11.3 percent annually in October, according to a September estimate and Viva's estimate, but slightly below the consensus projection of 11.4 percent a year.
For their part, analysts at Unitina AD said: "The slowdown in the food inflation sub-index may be due to the increased supply of agricultural products in the period up to the month in view, especially when we are moving deeper into the harvest season and cases Meanwhile, the mild rise in the YoY core inflation sub-index in terms of renewed pressure on the m / m rates (up to 20bps to 0.83 per cent in October) can be attributed to a faster rise in fuel and oil prices, p a spare parts for vehicles, services appliances, carpets and other floor coverings, dental services, hospital services, repair of household appliances and medical services during the period for verification.
Forecast for inflation for November
Speaking further, analysts from "Unit Capital PLC" said: "Looking ahead, we expect the sub-index of food inflation to increase marginally, as the expected increase in the supply of food products is expected to be compensated by the increased demand. , the declining incidence of farmers' crises and the floods of farmland is positive for supply, especially when we approach the harvest season. However, it is expected that demand will increase as we approach so we expect that inflation in food will increase slightly by 0.84 percent in November 2018. Elsewhere, campaign-related costs observed in November may push the sub-index of core inflation higher to 0.85 percent in November. To the balance of these factors, we expect upward inflation to increase by one inch, increasing to 11.32 percent in November. "
DSS nabbed ISIS bomb expert in Adamama
In a November inflation forecast, Vetiva Capital Management analysts said: "Despite the adhesion in recent inflation figures (a six-month average: 11.3 per cent annually), the convergence of the heads reduces our optimism about Nigeria's price environment .
"Firstly, spending on the elections is expected to increase inflation on demand, and members of the Central Bank of Nigeria's interest rate committee have already expressed concern over the excess liquidity in the elections. In particular, the increase in M3 (a new measure of broad money) above the prudent thresholds, which is a risk to inflation.In addition, the minimum wage increase remains plausible and can lead to a spiral of pay in the economy However, the expectations for the rest of the year are unchanged – 11.4 tsto in November and 12.2 percent on average in 2018, but we expect that inflation will rise in 2019, despite the aforementioned factors. "
The NBS reports a mixed development of transport costs
Related