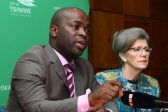 The drama seems to be the order on the day of the council session where the ANC filed a no-confidence motion in an attempt to overthrow the mayor of Tshwane, Sali Msimanga.
This despite the fact that Msimanga has already announced his resignation. He will leave his post on February 11.
This is clearly too long for the ANC to wait. They filed a no-confidence motion in the mayor at a council meeting that soon plunged into chaos, according to the tweets of Aldrin Sampear by eNCA.
The most dramatic moment came after comment by Msimanga, who said that the inability of the counselor to understand what he was saying was due to "the education of a bantam," the inferior educational system imposed on black people under Apartheid.
Read more: Msimanga resigns as mayor, but Tshwane ANC wants him now
This prompted the ANC advisors to throw the mayor with bottles of water to make him withdraw the statement, which he initially refused to do.
He eventually withdrew, but only after justifying him, saying that "the quality of Bantu education" is the reason "we are where we are."
The ANC and the EFF have joined together to remove Msimanga's resignation from the agenda of the council meeting.
ANC adviser Lezego Mahabella took to the microphone to summon the meeting "very toxic" and urged the immediate removal of Mimangga.
The current council meeting will also hear a proposal to suspend the city manager, Dr. Mokeci Mosola, for his involvement in the GladAfrica tender that was awarded irregularly.
#ThwaneCouncil Msimanga: the quality of education (Bantu) was bad, so we are where we are. But, however, I will withdraw it. @eNCA

– Aldrin Sampear (@ Aldinsampear) January 31, 2019
The mayor who leaves, who said he would step down to concentrate on his candidacy for Gauteng's prime minister, lifted the official letter this morning.
Nonetheless, the ANC joined their no-confidence motion, demanding it be voted today, along with the work of the council, such as reporting on the intention to suspend Mosola and discussing the AG report in the city of Tšwane.
#ThwaneCouncil While @TshwaneANC wanted to write another request for no confidence against the mayor @SollyMsimanga, the mayor sent him a letter of formal resignation to the speaker. @TheCitizen_News

– Rorisang Kgosana (@ therealrorisang) January 31, 2019
(Compiled by Daniel Friedman. Further information from Kawada Selisho and Rorysang Kogsana)
For more news on your way, download the Citizen's application for iOS and Android.